DAMN. was only an interlude. After he delivered that (relatively) starker album, Kendrick Lamar went back to his old bad habits. His last release, indeed, looks like a big fat wedding cake. One thousand one hundred and fifty days happened between these two works, as the little prince of Compton points out. It took him that much time to build this new blockbuster. He had all opportunities to build this new record with too many guests, too many producers, too many subject matters, and to make it properly indigestible.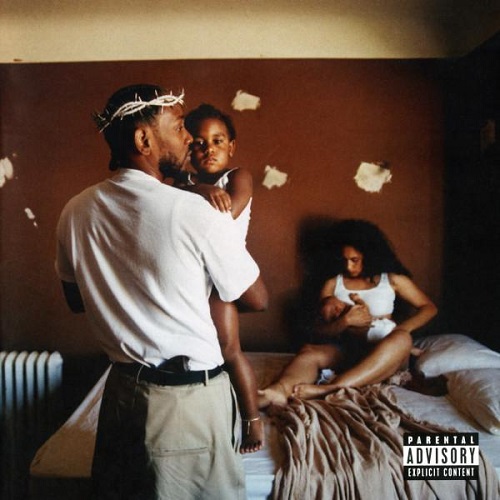 As a matter of fact, it took us no less than two hundred and nineteen days to write something about it. And still, even after that time, it is hard to decide what to think about this album. Or maybe we were set even before it was released.
By experience, we knew that everything that makes Kendrick likable would still be there, on Mr. Morale & The Big Steppers. There are good reasons, indeed, why he is one of the most revered and commented rappers of his times.
He is still this gifted guy, who can change his flow depending on what he talks about, like with the hook on the "N95" single, where he sounds like Young Thug, or with "Purple Hearts", where he moves seamlessly from rapping to singing. He is haunted, at times. He is possessed on the first half of this work that is, actually, a double album, on pieces like "Die Hard", or intense songs like "Father Time".
We knew, also, that we would find there everything that is irritating with him, starting with this messy intermingling of sounds and influences, whose lack of cohesiveness is all the most accentuated by the constant changes of tempo that Kendrick Lamar, a complacent virtuoso, likes to operate.
The tone is set as soon as with "United in Grief", with its unpredictable assemblage of frantic rhythms, symphonic strings, quiet pianos, and the relentless way the rapper shares his observations. It is wordy, and it is chaotic. And though, it works. And though, it is wordy, and it is chaotic.
With his many sounds, and also the variety of its subject matters – we'll talk about these in a moment – Mr. Morale & The Big Steppers is an excessive album. It is lengthy, too. 73 minutes? Really? Was it necessary, now that the CD era is gone, and none forces you to be that long? Now that, in the times of Deezer and Spotify, albums can be short again?
People complain about Kanye West's delirious megalomania, but why don't they make the same fuss when it comes to Kendrick Lamar's? Doesn't he think he is Jesus as well, when posing with a crown of thorns like on the cover art?
The answer is known: while the former clowns around with Donald Trump, or tells bullshit about Hitler with a stupid ski mask on his head, the latter is careful about what he says. His lyrics are about himself, he talks to his mirror, but he is prone to autocriticism. And his themes, in addition, fit perfectly well the sociopolitical agenda of today's America.
His pose, his opinions, his status in the history of rap and the African American community, are what matter with Kendrick. This is what the press talks about, first and foremost. That's why so much is written about him, more than with any other contemporary rapper. This is what it's all about. Just read most articles or reviews about him: very few talk about his music. These are all thoughts, observations, and comments about Jesus Lamar's place in today's world.
Each Kendrick Lamar album has a main theme. Each of them is, somehow, a concept-album. And that one is no exception. It looks like a psychotherapy, for this guy who's now reached his thirties. After having been a spokesperson for the African Americans on To Pimp A Butterfly, the rapper focuses on his family. The cover art is clear about that, that shows his wife and his kids. Kendrick talks about his relationship to his dad on "Father Time", and to his mum on "Mother I Sober". And on the latter, as well as on "Worldwide Steppers", he mentions a sex addiction that makes him an unfaithful husband. Even when Baby Keem raps, it is still about the same clan and family since he is his cousin.
Such intimate confessions, though, allows him to talk about many, many, more general, social, and political hot topics.
The pandemic? He mentions it on "N95", where he criticizes how the government managed it, on "Count Me Out", and then on "Savior", where he mocks the antivax militants. The African American condition? It is still in the background of his family considerations, especially on "Mother I Sober", where the rape her mother suffered from, leads him to comment about the sexual submission that's been a tradition for black women since the times of slavery. Interracial relationships? They are mentioned on "Wolrdwide Steppers", when the rapper questions his own affairs with white women. Child abuse? He alludes to it when talking about his children on "Mr. Morale". LGBT rights? Here we go, its on "Auntie Diaries", about Kendrick's transgender cousin and uncle. Toxic masculinity? It is a theme on "Father Time". Marital conflicts? It's on "We Cry Together", with the domestic dispute the rapper plays with Taylour Paige.
Other rappers delivered similar songs. Eminem of course, with "Kim", and before him Slug, with "Primer". But while they embodied some violent and frustrated white male that made his wife a victim, Kendrick is more cautious: in his own dispute, the woman has a say. She is as strong and virulent as her partner. They are equally acrimonious, and they have an articulated way to share their grievances. They are pointing out each other's contradictions. And eventually, they reconcile, and they have sex. The devil can't really win.
Kendrick, indeed, remains a good guy. He is plagued by doubt. He questions his own acts, and he admits he is not perfect. And though he presents himself as a new Christ, he also urges people not to revere him as an idol. According to "Savior", he doesn't want to be considered as such, a savior. On "Mirror", he says that his own fate worries him more, than where the world goes. Good old Kendrick is the most celebrated rapper of his times, but he is a such modest man!
He even pretends to be his opposite, Kodak Black, whom he invites all along the album. He allows the Floridian rapper to justify himself on "Rich", and to claim he is only a product of his environment. That's a bold move, sure, to support a man boycotted by many due to his rapist past.
But Kendrick Lamar takes measured risks, while he confronts the cancel culture, a movement not everyone supports, anyway. Essentially, this strengthens his image as a nuanced artist, and his reputation as an independent man. All in all, with such a rapper, we never know what comes from calculations, bravery, conformism, or spontaneity.
Kendrick says it on "Crown": "I can't please everybody". No, he can't please everybody. But the very fact he talks about this, shows that his ambition lingers there, in the back of his mind. That's the matter with him. At the end of the day, he is still a pleaser, a complacent man. But when it comes to music, it is sometimes better to be the one who doesn't give a shit, the one who hurts, the one who throws it all away.