Let's continue our review of the Paper Route Empire roster, we started earlier in the year. Let's carry on with Donafizzo, Jay Fizzle's latest album. That one is not a rookie. This cousin of Dolph released records for more than five years. And he is the rapper who delivered the most vibrant homage to his mentor, on the Long Live Young Dolph tribute: "the way I talk, the way I walk, the way I act, the way I dress; the way I do my thing up in the booth, I learned it from the best".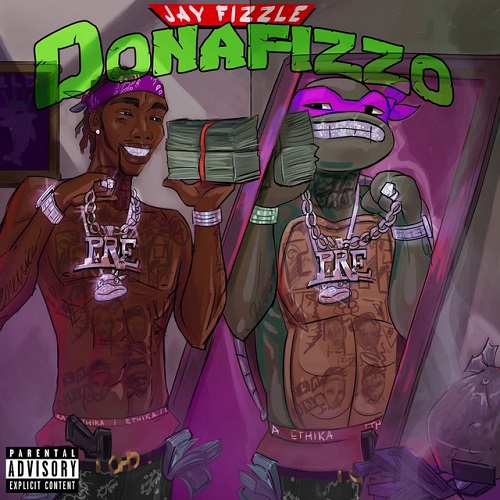 Also, he is the one who honors him the best on his new record. At least in the original version since, as usual, the bonus tracks of the Deluxe edition dilute the record's overall quality. They also delay our pleasure. Because of them, the album no longer starts with one of its best tracks, "Hood Rich", a clichéd braggadocio about the rapper's material success, but also a nice piano-infused piece of trap music.
Seconded by Sosa 808 on the beats, as well as others like Hitkidd, who helped recording a remarkably diverse album, Jay Fizzle provides us with some other highlights. The ode to luxury "Look Like Money", with Jackboy and Joddy Badass is one of them. The martial "Choppas On Choppas" is another, as well as "Murder", with another house artist, Snupe Bandz, and the rags to riches anthem "Nothing Into Something", where his style gets similar to Young Dolph's.
Thanks to such songs, Jay Fizzle stands out. Thanks also to other key attributes: the way he eats words, or his references to childhood heroes: The Lion King, Son Goku, Jackie Chan, and of course the one on the covert art, Donatello of the Teenage Mutant Ninja Turtles. Also, he is obsessed with girls. He pretends he has full collections of them on "50 Freaky Bitches", one more song based upon the Mission: Impossible theme, and on "Four Hoes". And that's not only bragging. According to rumors, the rapper had something like 14 to 22 children, almost all from different mothers…
What matters to Jay Fizzle, is that PRE stays at the top, according to "Standin On Top Of Shit", with Key Glock. He wishes he continues to represent his city, on "Dust Town Livin", with two other young guys from Memphis, Big Moochie Grape and Big Scarr (RIP). Even though that track is weaker than others, the rapper reaches his goal with his album, quite probably the best released by his label in 2022.