It is logical that the PRE state of the art we started just after Young Dolph died, ends with Young Dolph. As a matter of fact, a posthumous album was released recently, by the end of 2022. And contrary to others, this is more than an opportunistic move, aimed at taking advantage of a tragic event. Despite a few additions and corrections, it's not only about scraping what's left. This is a real album, Dolph was planning to release when he was still alive. And it is quite strong.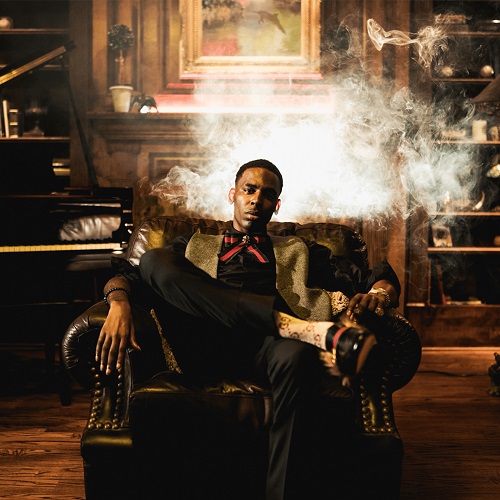 This is, indeed, Young Dolph at his purest. Nothing superfluous was added after his death. This is still the same guy there, with his deadpan humor, and his main subject matter: his indefectible loyalty to the streets and to drug dealing. The Frank this is about, actually, as alluded to on the "Hall Of Fame" single, is the drug kingpin Frank Matthews.
As early as on the first track, "Love For The Streets", the rapper makes a strong impression with his braggadocio, like when he pretends he had his first "bitch" when he was seven. Dolph is dead now. Sure. Nonetheless, he is in good shape.
Truth be told, there's nothing original or sensational with his lyrics. He is not playing with words, there is barely any double-entendre. But he is splendidly classy and insolent.
Dolph just boasts, but he does it with lots of style.
"Blind Fold":
Different car for every day of the week
But I don't even got time to drive 'em
"Roster":
Drinkin' Dom Perignon out the bottle
"Smoke My Weed":
What the fuck is ten stacks? I spent that on a coat
"Infatuated With Drugs":
Fucked her one time and she won't stop braggin'
And also there's that one on "Uh Uh"...
You ain't never seen another nigga like me
... which is so true, unfortunately.
That "nigga", also, discloses his intimate face. He does it on "Old Ways", when he says that family life changed his perspective. On "Always", even though he is prouder than ever, he talks about an existence surrounded by cops, rivals, and female profiteers, that doesn't look that fun. On the same track, he anticipates his funerals, wondering why the street lottery preserved him so far. And on "Get Away", he says he wants to let everything go. Crime, rap, celebrity. Everything.
His record remains a family business. The main guests are his protégés from Paper Route Empire. The producers are BandPlay, and like-minded others such as Drumma Boy, and the Memphis legend DJ Squeeky. As for the other contributors, they are all from the same trap music lineage, like 2 Chainz, or Gucci Mane, their model, and their godfather.
These gents do their best to honor the rapper, especially his disciples. Key Glock delivers a strong performance on "That How". And "Infatuated With Drugs", with Big Moochie Grape and Snupe Bandz, is outstandingly strong. Moreover, the production work is solid. Simultaneously reverent and original, it is well balanced. It has the perfect dose of violins, thrumming synthesizes, ethereal voices to brighten the skeletal trap music. And the songs are well sequenced, from the lively "Love For The Streets", to the bleak "Get Away".
Dolph is six feet under, but on Paper Route Frank he is still with us. He remains insolent, and he stands there, defying his opps, without batting an eye. No rapper should die like him, that's rule number 1. Rule number 2 is that no posthumous album should ever be released, unless it looks like this.