Tutwiler is a small town. It's a village, almost, based upon American standards, with even less than 4,000 inhabitants. This is a family. As a matter of fact, the mayor is Da'Jour Walker's own aunt. Therefore, when the rapper known as BigWalkDog got noticed by Gucci Mane, when he joined his New 1017 label and featured on his "Poppin'" single, the local authorities celebrated him with a triumphant parade.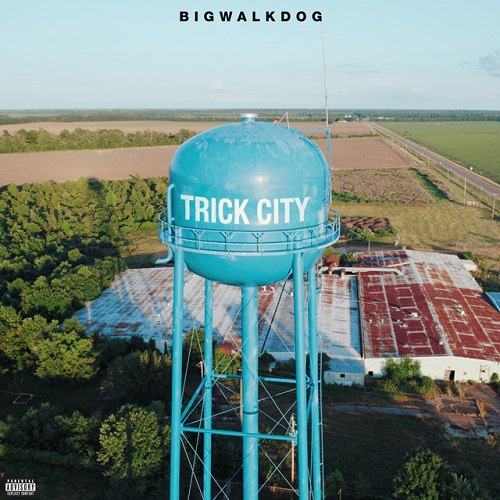 The wonder child of Tutwiler, Mississippi, was welcome back with honors, during a march organized specifically for him. He became a local hero. Even though he isn't living in that town anymore, even though he recorded his first songs in Memphis before settling in Atlanta, closer to his new mentor, people partied for him, in that middle of nowhere.
Yes, Tutwiler is the middle of nowhere. But a very special nowhere. This is, indeed, where John Lee Hooker was born, along with other bluesmen. This is the real deep South, and therefore the beating heart of African American music, this simple and generic art that has nonetheless more depth and more value than any other with higher esthetical ambitions.
Trap music is the new blues. And BigWalkDog, somehow, is the new bluesman. His first album shows this. There's nothing new on Trick City. Its formula was popularized a while ago by Gucci Mane. It is an established tradition. All over the record, except for a few digressions like Helluva's contribution to "I'm the One" – BigWalkDog has connections in Detroit, the city of his father – this is the music of Atlanta. This is made of stereotyped 808s and piano keys.
However, it feels good to be in Trick City, even though it is submerged by drugs and violence. This is an homogenic record, with no real flaw, and the comfort provided by the expected lyrics about the rapper's passion for glittery jewelry, he shares with his mentor, and luxury cars, Percocet, or pole dancers. Nothing is particularly original there; neither the song titles – things such as "So Icy", or "Love of the Money" – nor the ad-libs, that are made of a simple and trivial "hey". But despite all this, there are multiple great moments there.
There are the singles, "Poppin'" of course, but also Whole Lotta Ice" with Pooh Shiesty, another Gucci Mane protégé, and the Atlanta star Lil Baby. And there are other songs: the atmospheric Mary Jane" about guys smoked like marijuana, the two "What You Hear" storytelling moments, the trouble stories of "Nino", the emo gangsta posture of "Son of a Gun", the rags-to-riches anthem "Came from the Bottom", and the nice melodies of "Uncle Tommy", where BigWalkDog mixes his desire for success with family reminiscences.
Even the bonus tracks are strong, like "SIN", with Rylo Rodriguez, or the strip club hymn "Vert", featuring Big Scarr. Because of this, even in its extended version, Trick City is one of the very best (t)rap music artifacts delivered this year.