Sometimes, JID is called the Kendrick Lamar of Atlanta. Some of his fans might be angered by this comparison. They might find it lazy. But it is not entirely unfounded. At time, the texture of his voice sounds like the Compton rapper's. His rapping technique is close as well. He, too, has a malleable and unpredictable flow, and he is keen on playing with words. He is another virtuoso not scared of excesses.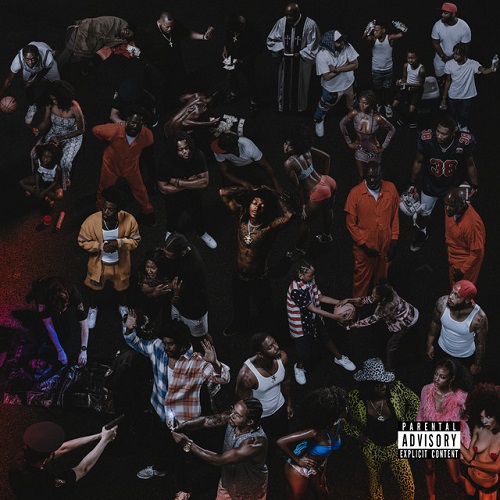 The same goes with his musical style, that defies all established frameworks. Like the other, he represents his city. The last JID album, indeed, sounds at times like Atlanta, as with its first real song, the striking "Raydar". But his kind of trap music is severely mistreated. It is battered, and crushed. JID, also, explores new formats. He goes back to the soul or gospel music of the old times. He changes tempo and cuts his songs into pieces, so that he challenges his flow even further.
As Kendrick, to achieve this ambitious album - and like with any rap blockbuster - JID invited an army of collaborators, and he seeks to satisfy all audiences: your mama, the hoes and the trappers, according to "Raydar". Also, he took his time. While the average regional rapper would release one project every two months on the streaming platforms, it took him four years to finalize this official record. In the meanwhile, he only delivered a few collaborative tracks, and he participated to a Spillage Village collective album, exactly like the other had fun with the Black Panther soundtrack.
It is precisely because of this long wait, and because it took him "forever" to put an end to this record, that the Atlanta rapper named it The Forever Story ; as well as to underline the continuity with his first album, The Never Story, he released when he was still a newcomer sponsored by J. Cole.
Like the little prince of Californian rap, JID has lyrics with substance. There are some deep thoughts about the African American condition, there. Per the cover art, that represents the multiple profiles that exist in that community, there is also a bit of social commentary. It is signified at the very start, with a few words from The Last Poets on "Raydar".
On "Money", for example, JID recalls where the rappers' obsession for money originated: from the poverty of their youth, a condition that never really disappear. He also talks about religion, the Christian one, as well as the Rastafarian, like with "Dance Now", about the street sinners. And as Kendrick the media favorite, once again, JID colors his general statements with observations from his own life.
The best example is the great "Crack Sandwiches", where JID talks about some past mishap with his six siblings. While talking about a fight they all joined, he alludes to his family underprivileged existence, in the famous Zone 6 of Atlanta. With two renowned guests, Lil Durk and James Blake, he talks at length about the same family, dedicating "Bruddanem" to his brothers, and "Sistanem" to his sister.
In the same vein, the intimate one, "Kody Blue 31" talks about the death of his grandmother – apparently, the chants heard at the very beginning were sung by her family on her funeral. And on "Better Days", the rapper reminisces about growing up in poverty-stricken surroundings. The album is full of such memories. The only piece missing is "2007", au autobiographic song with a contribution from JID's own father, that was discarded for copyright reasons.
The Forever Story is a dense and complex album, with interwoven stories, and where serious and lighter subject matters all resonate with each other. This is a very referenced work, with lots of hypertexts, like with the hook on "Sistanem", inspired from Outkast's "Rosa Parks", or the use of one of Mos Def's most iconic samples – the one from Aretha Franklin he used on "Ms. Fat Booty" – while the very same Mos Def, a.k.a. Yasiin Bey, features on another track, "Stars".
Like Kendrick Lamar, again, JID delivers a sophisticated opus, that bring what they want to the medias: a great opportunity to act as exegetes and to write long reviews. Nevertheless, it is full of inspired moments, especially on its first half, with the prodigious "Raydar", "Dance Now", "Crack Sandwich", "Surround Sound" and "Kody Blu 31". This series gets close to perfection, just before JID loses himself in his own ambition, the softness of R&B sounds, and some boring considerations about the price of success.