The show must go on. Young Dolph stopped being bulletproof. He is dead, now. But his little empire, Paper Route, still stands tall. The dolphin's heir apparent, Key Glock, took control, and other protégés like Kenny Muney and Big Moochie Grape remain quite active. "Long live Dolph, yeah, I took a big loss, get your real big bruh, just know we gon' handle it", the latter said on "In Dolph in Trust", a track from the tribute compilation Long Live Young Dolph. He is going to handle it, indeed. His last album shows it.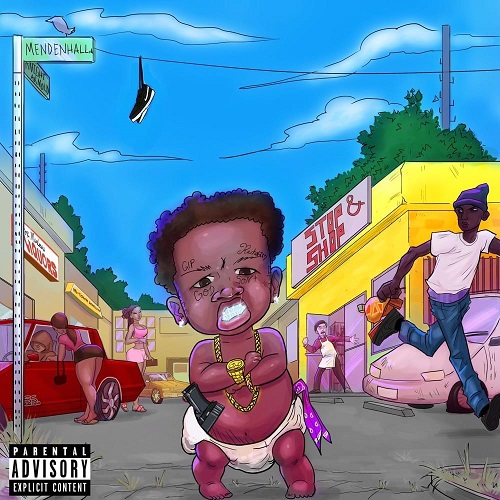 This is a familiar story: Young Dolph took under his wing a former juvenile delinquent with a knack for rapping. And with the loyal and frequent support of BandPlay, the house producer, the young ruffian delivers the same music as his boss, inclusive of (posthumous) verses from him on "Fun".
East Haiti Baby is a new product from the Paper Route Empire factory, a label that believes in arts and crafts and independence. Once again this is rap music that, with excessive gangsta lyrics, a guy more preoccupied by his standard of living than his sentiments, and a jerky flow, recalls the everlasting influence of another Memphis hero, Project Pat.
Like his partners in crime, Big Moochie Grape always tells the same story, about those who have nothing ("Never Had Shit") but who want everything, asap ("Right Now"). His lyrics don't care about morality, and they take no precaution, the rapper, unbridled, using overtly forbidden words such as "pussy", "faggot" or "bitch", like on the sepulchral and uncivil – and therefore very Memphis – "Big Flair".
Of course, the album is as imperfect as it is generic. But it has many gems. After the introductive and eponymous "East Haiti Baby" – with the same Bill Whiters sample as Blackstreet's "No Diggity" – there's the forenamed and remarkable "Never Had Shit", the indolent "Christopher Wallace" where Big Moochie Grape measures himself to Biggie, this "Breakdance" featuring Key Glock that is delightfully threatening with the minimalistic piano beat delivered by BandPlay, a gothic and brutal "Joe Biden", the ego-trip and relentless piano of "I"m the One", the aggressive and implacable "Acting Up", and then a definitive "Takeover", that would have benefited from being the album final track.
The show will go on. As for the abovementioned Notorious B.I.G., there will be a life after death, for Young Dolph. Big Moochie Grape and the others will guarantee it, no doubt.