Some say there are three ways to escape the ghetto: sport, crime, and rap music. Initially, Patterson Menard tried the first one, before losing himself in the second. He got a ticket to the Indiana university through his practice of football, but next he got expelled for drug possession. Back to the Broward County, in Florida, he was then left with one option: in 2018 he started a career as a rapper, as Trapland Pat.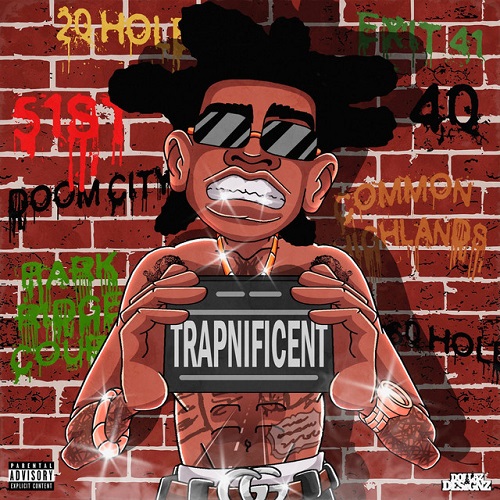 His efforts were rewarded: three years later, his song "Big Business" was a success, and he joined Bang Biz Ent, Fredo Bang's label, through a partnership with Todd Moscowitz's Alamo Records. Since then, Trapland Pat performed this song in a video that featured Florida's greatest, Rick Ross.
Trapland Pat is not a star yet, but he looks like one. He is a big dude with grillz, the same haircut as other Haitian-Floridan rappers such as Kodak Black, and he is seen clowning around in weird videos, rolling his eyes like a cartoon character and declaiming his stupid "duh-duh-duh" ad-libs.
Style seems to matter over content, with that guy. At times, he gets confessional, like with the freestyle on "On The Radar", or with "Stranded", and its adequate guitar. He talks about what's behind the scenes of hustling, on "Cappin'", or about his feelings on "Love & Heartbreaks". But most often, with the morgue of those who made it out of nothing, Trapland Pat only brags about girls and money.
This could be just another record, in the well-delineated world of trap music, if the rapper hadn't a versatile and effortless flow, keen on changing tempos as on the song "Free All My Zombies", where he seems to be talking to himself.
Not much would be out of the ordinary, if he wasn't provided with the right beats by his usual partner, PepperJack Zoe, and a bunch of others. Trapnificent owes them some of its best ideas, like with "4 & A Baby", a track produced by Hardbody Heero and Hardbody B-Eazy, and a few bangers such as his other teamwork with Fredo Bang - titled "Astronaut Status" as if it was from Future - or the electro beat on "Hellcat", with Eli Fross, the Brooklyn drill rapper.
Elsewhere, Trapland Pat delivers even better songs, like the outstanding "Losses", a relentless review of the many dangers of street life, the quarrelsome "D.O.A.", where he assaults his opps with some help from Big30, the light and catchy "Motions", the lament on "Stranded", and the soft and sweet conclusion on "Routes". There are so many gems, that more lazy tracks such as "Put That Shit On" don't matter much. They won't make Trapland Pat less Trapnificent.