There's not only one Peezy in the rap game. While the buzz is growing around OMB Peezy, another guy with the same moniker deserves our full attention: Team Eastside Peezy (per a new trend, rappers are now including their bands' name to their own: will we talk soon about WTC Raekwon?). His Ballin Ain't a Crime mixtape is, indeed, one of the best in 2017. Contrary to the young rapper from Alabama, though, this Peezy is quite experienced. Based out of Detroit, his collective is active since the early 2010's. Now almost 30, Phillip Glen-Earl Peaks already released several albums or mixtapes, like Mud, Sweat & Tears in 2015, his most noticeable one.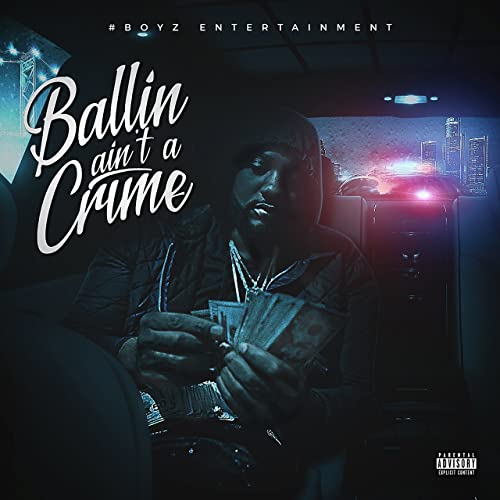 Ballin Ain't a Crime was preceded by a non-musical event. Peezy, indeed, was arrested in 2016, with other members of his 6 Mile Chedda Grove gang, for racketeering. Following this, he titled his mixtape in a way that looks like his line of defense: ballin', showing up one's fancy lifestyle, is actually not a crime. The ways through which he achieves it, though, might very well be criminal, when reading between the lines the lyrics of the same-named song. This is one of the best on this free album, as well as the perfect introduction to the rapper: a bit like his neighbors (and collaborators) from Doughboyz Cashout, Peezy is both a flamboyant and threatening rapper, and a heir to No Limit – he uses the same "uhh" as Master P – but his beats are dryer, neater, cleaner, colder, his synthesizers more modern. He sounds more northern.
Some tracks don't comply with this formula. They are softer, like the Auto-Tuned "Session Litt", or "Eastside", a song with Philthy Rich, a guy already strongly connected to Detroit, and also with Jim Jones. But generally, the same recipe as "Ballin Ain't a Crime" applies through the mixtape. The same swift and relentless music supports the best tracks. Same with Peezy's implacable flow, who manages to outshine his many guests. Same again with the themes: his thirst for wealth, his street tales, and a few sexist words about girls ("All Over", "Soaking Wet").
This project, however, is never too repetitive. The bells and piano keys on the great "Against All Odds", the synthesizer on "Regardless", the guitar on "Soaking Wet", the rhythmic versatility of "I Got Mo", the relentless loop on the striking "Neverseen B4", or the sad trap music of "All Over" (one of his songs with Babyface Ray, another eminent guy from Team Eastside), make the mixtape diverse enough, until it is getting closed with "Everybody", another banger. Thanks to releases like this, it is now obvious: Detroit is one of the most exciting scenes in modern rap.