OPEN MIKE EAGLE - Unapologetic Art Rap
Unapologetic Art Rap; such is the name of Open Mike Eagle's 2010 album. In a year marked by the triumph of Waka Flocka's brutal and visceral rap, he released something opposite: a manifesto for the most sophisticated and intellectual kind of rap. The 30 year old rapper, actually, was the best person for this: close to Nocando and his Hellfyre Club, Michael Eagle is, like him, a Project Blowed heir; he released albums on some major indie labels - Mush, Fake Four, and more recently Mello Music; and before relocating to California, he was a key player on Chicago's underground scene, along with people like the Nacrobats and Pugslee Atomz.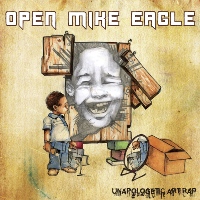 Mush Records :: 2010 :: buy this record
OME was as unapologetic as a gangsta rapper, but his aim was to promote a completely different cast of MCs: educated experimentalists, who care about their music's esthetics. This kind of rap lost the war, we know it, and Mike Eagle as well. As a matter of fact, there was more irony than braggadocio in the album's title. As soon as with the hook on first track - "ain't no party like an art rap party, 'cause an art rap party's so smart" - he seemed sour and resigned. With his mellow voice and with his suave flow some have compared to Abstract Rude's, and also with his lyrics celebrating the masochism of arty rappers, he sounded driven more by self-mockery, than by conviction. And "WTF is Art Rap?" was as ambiguous: it was not clear if OME really believed in his "art rap" concept, or if he just criticized it.
Open Mike Eagle, though, delivered artsy raps for real: his flow was fluid and skillful, in the Project Blowed tradition; his raps had a rich vocabulary and lots of figures of speech; he had a smart and thoughtful posture; his lyrics were clever, for example with "Helicopter", which depicted a future dominated by the Internet and Facebook. And the beats, delivered by Alwayz Prolific, Maestroe, and the more famous Exile, were the same: they could be a bit bizarre, and a pure product of the Los Angeles' Low End Theory parties, were electronic music and hip-hop liked to meet each other. The album was full of weird times, like the voice treatment on "I Rock", where Open Mike Eagle talked about escaping an ordinary life through hip-hop, or the noisy mess of "Rap Protection Prayer", or the guitar of "Pissy Transmissions", which sounded like on a song from the indie rock band Pavement.
As always with artsy ambitions, it was make or break. Boredom and failures were present here, like with the terrible "Original Butterscotch Confection", featuring Busdriver. But some successes were there as well. That was the case with "Freak Flag", an anthem to marginal and dysfunctional folks. The same went with "Easter Surgery", with another rapper originally from Chicago, Serengeti, and about the old "faith vs. sin" theme. And there was "Unapologetic" as well, with Nocando: on a catchy electronic beat the rappers, both African-American, were challenging the usual stereotypes linking arty hip-hop to White backpackers, and ignorant rap to Black people. With such a track, and more generally with this formally imperfect - but consistent content wise – album, the message would be definitely received.
Rate this entry
0/5
Note: 0
Votes: 0
Higher: 0
Lower: 0