And if, in his heyday, by the middle of the noughties, exactly when he pretended to be "the best rapper alive", Lil Wayne's opus magnum had been none of his official albums, Tha Carter II or Tha Carter III, but a mixtape? As a matter of fact, this could have been Dedication 2, in 2006. Or maybe, one year after, the third installment of his Da Drought series, a project where Weezy was so prominent that the cover art didn't mention the DJ, and that he postponed the release to take the time to record a double-album, with no less that 29 tracks, and almost zero filler.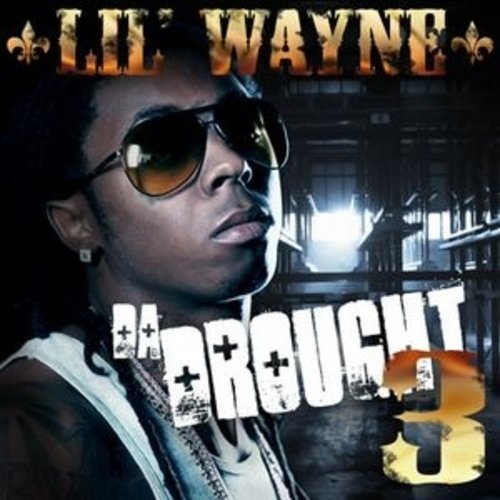 None of the beats he used was his. On Da Drought, a true mixtape, Lil Wayne looted the music from the most famous rappers of his times, those from the East Coast like Jay-Z, Nas, Cam'Ron, Juelz Santana, Jim Jones and Young Gunz, and those from the South, like T.I., Young Jeezy, Young Dro, Lil Boosie, YoungBloodZ, Yung Joc and Mike Jones. He also went much beyond rap music, using songs from people like Beyoncé, Ciara and Robin Thicke. And he went far back in time, like with "Everlasting Bass", the old West Coast classic from Rodney-O and Joe Cooley.
Also, he appropriated each of these songs. He did it so well that they didn't sound that diverse or eclectic anymore: they were fully his. The rapper did even better than that: he made them stronger than the originals. Mike Jones' ordinary "Mr. Jones" became an irresistible "Ride 4 My Niggas", transcended by its exalted hook ("The sky is the limit"...). That was true with the most obscure tracks, as well as with the most famous, more particularly Jay-Z's "Dead Presidents", Nas' and Lauryn Hill's "If I Ruled the World", and "Crazy", the hit single from Gnarls Barkley.
All over that mixtape, Lil Wayne was on fire. He rapped along a hundred intense minutes, with limited support – the only guests were Juelz Santana, Brisco, and the then unknown Curren$y and Nicki Minaj – in a verbal deluge, in long verbal marathons like "Back on My Grizzy". Sometimes, he referred to the artists he was stealing beats to, measuring himself against T.I., or declaring his love for Ciara. He talked about pretty much everything: money, sex, guns, "bitches" or "niggas", with no other motive than self-affirmation. All of this was mixed with a juvenile energy, Lil Wayne being more interested in music and creativity, than in making sense.
Same with his flow: he would constantly play with it, moving from a shrewd to an oneiric tone, and sometimes being literally possessed, like on "We Takin Over". He sang on "Boom", or he turned dancehall with the introduction. And for his own art, rap music, it was nothing less than liberating. If the 2000 decade is the time when we realized that a hip-hop mixtape could be superior to a regular album, Lil Wayne and Da Drought 3 indubitably contributed to this.