By the end of the naughties, almost two decades after the beginnings of his own Three 6 Mafia, after the apotheosis marked by his Academy Award and the success of "Stay Fly", Juicy J decided to focus on his solo career. He released a couple of albums, Hustle Till I Die in 2009, and Stay Trippy in 2013, but also several mixtapes, including both editions of Rubba Band Business, two collaborative works with Lex Luger. While requiring the help of a producer sixteen years younger than he was, the guy behind Waka Flocka's and Rick Ross' latest bangers, the Memphis veteran obviously wanted to demonstrate that he aged well. And indeed, he did.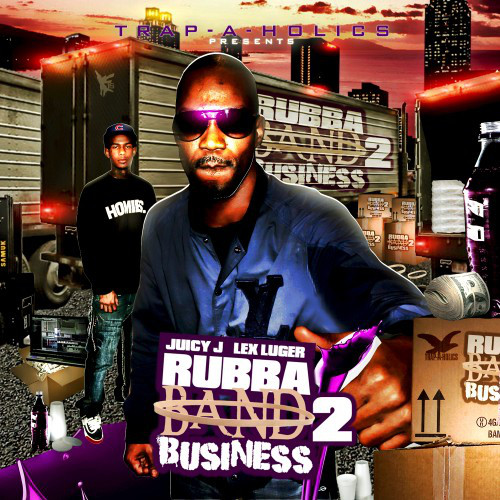 The 110 minutes of the second Rubba Band Business project was indeed an endless suite of juvenile anthems. It was a long hedonist celebration, dedicated to partying, sexing and, more importantly, drugging. Juicy talked about all kinds of substances: kush, lean and others, on tracks like "So Damn Fucked Up". He was motivated by three things only, summarized by the title of one of his many tracks: "Pills Weed Pussy". His most aggressive moments – songs like "Bonbay Gin Dance", "Killa", "Introduce", "Street Shit", and "What the Fuck Y'all On" – set apart, these were his only themes. Considering his jerky flow and the length of this project (28 tracks), this could have been quite boring. But the presence of Lex Luger made it otherwise. His typical formula was still there, like with the great "Inhale"; but it was less brutal than usual. It was even a bit atmospheric, like with "Smoke that Bitch", another outstanding song on that mixtape.
Also, thanks to the guests, this project was delightedly diverse. Truth be told, Sonny Digital sounded a bit too much like Lex Luger on "Me", but other producers imported there their own styles. For example, from "Celebration" to "Paid for Bitch I Own You", the mixtape suddenly turned soul or R&B, thanks to Big Germ's work. And the guest rappers were as diverse as the beatmakers. There again, Juicy J rejuvenated himself with younger guys: Wiz Khalifa – whose Taylor Gang the Three 6 Mafia alumni would join later on – Machine Gun Kelly, Don Trip, Casey Veggies, the guys from Travis Porter on the great "Durr She Go", and Curren$y on "Paid for Bitch I Own", a relaxed track typical of his blunted style. As for Billy Wes, he was his usual R&B crooner there. Actually, beyond Juicy J's own case, Rubba Band Business 2 was about contemporary rap celebrating itself; a kind of rap our Memphis veteran was a godfather for.