JIMMY WOPO - Woponese
As 2016 is coming to an end, it is good to review its new faces, and to choose those we want to remember. Among these is Travon Smart, a.k.a. Jimmy Wopo, a young man from Pittsburgh, Pennsylvania, who surfaced with the success of his "Elm Street" single. First coopted by local stars Mac Miller and Wiz Khalifa – he is affiliated to the Taylor Gang – he was also praised by Mike Will, performed on stage with Rae Sremmurd, collaborated with Sonny Digital, and shared the mic with Riff Raff and another rising star, 21 Savage, whose "No Heart" he remixed.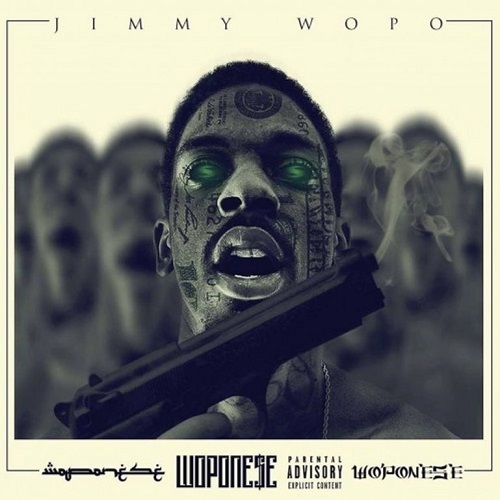 Self-released :: 2016 :: download mixtape
Along with the latter, he belongs to the darkest side of rap's next generation, which makes all sense considering his past: his schooling, indeed, was chaotic, and he has been deeply involved into drug dealing and violence – people shot at him, at the exact time he recorded "Elm Street". As a result, his music is tense. Often organized around nervous piano chords, or oppressing synthesizers, it fits perfectly well his ruthless gangsta rap, delivered with the tough heart of someone used to burn his candle at both ends, and who knows that death is lurking close.
Released in summer 2016, his first mixtape is a perfect rendition of this. After having described his lifestyle in a threatening way on "Big Pimpin'", he is paranoid on the outstanding "Ayo". The next track, "Back Door", a collaboration with Sonny Digital – as a rapper – is some kind of gangsta ego-trip, with a hook based on Birdman's and Clipse's "What Happened to that Boy". "Drinkin' Dope" is what it means: a song about getting high. "Elm Street", which is about Wopo's start as a delinquent, is unescapable, with its minimalistic piano, electronic sounds, concise rhymes, and strangled voiced crescendo. And so it goes, on and on, until the end.
Nothing, there, is totally new. But Jimmy Wopo spills his guts out. Thanks to the short length of his mixtape, 20 minutes only, thanks also to the fire or ardor of his young age – 19 – the rapper never stops being intense, all along Woponese. Let's see now how this young man will keep pace, starting with his second mixtape in the year, Trapanese, he released with Hardo, another newcomer in Pittsburgh.
Rate this entry
0/5
Note: 0
Votes: 0
Higher: 0
Lower: 0