People who lived the early days of hip-hop music, in the late 70's and early 80's, hadn't realized immediately that this was a brand new kind of music. To them, the new sounds they heard sounded more like a declination of funk, or disco, than a musical genre per se. And today, it seems that rap itself has reached a similar point. Now that raps are turning into sing-songs, especially in Atlanta, its current capital city, some wonder if that musical genre should still be called the same. Listening to people like ILoveMakonnen, this question sounds legitimate.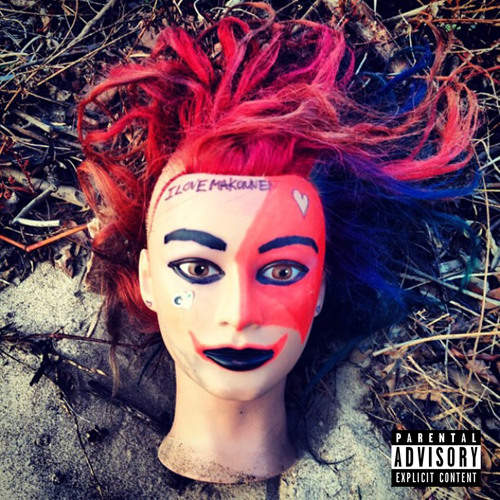 Makonnen Sheran's upbringing, though, is typical of rappers. He grew up surrounded by violence, and he faced legal problems of his own when, accidentally, he killed a friend with a gun. Like many rappers, he launched his career with mixtapes, by the early 2010's. Later on, he started collaborating with Mike Will Made It, and in 2014, his greatest year, he frequented some other Atlanta producers: Metro Boomin became a fan, followed by Sonny Digital, 808 Mafia and DJ Spinz. Thanks to these people, Makonnen became a bit more visible, first with his Drink More Water 4 mixtape, and then with the free EP I Love Makonnen. Two of ILoveMakonnen's songs indeed, "I Don't Sell Molly No More" and "Club Goin' Up on a Tuesday", would be praised by celebrities like Miley Cyrus and Drake. The latter would remix the second track, and ask the rapper to join his OVO Sound label, where a revised version of the EP would be released.
Let's have a look at the first version, ILoveMakonnen's true manifesto – nothing significant, indeed, would be added with the other, except maybe the great "Swerve". That EP still had some hip-hop tracks to offer, and more particularly trap music ones. Such was the case with "I Don't Sell Molly No More", a great song where Makonnen opened his broad pharmacy. And elsewhere, the rapper took things were others had left them: Drake, with his vulnerable raps; Young Thug, in his craziest and most possessed times; and Lil B, an overt influence, for his ability to create a world of his own. ILoveMakonnen, though, went further from any of them.
And also, he sang for real. Beyond rap, his music was influenced by pop, rock, R&B or club music. He had odd melodies, frail and effeminate ones, delivered in an awkward way, sometimes with a falsetto or, on the opposite, with a deep voice, on songs like "Too Much", "Meant to Be" or, even more visibly, on "Sarah". ILoveMakonnen, actually, looked like a wannabe opera singer rehearsing in his shower. In his Teddy bear way, he talked mostly about love pains, and ex-girlfriends hurting his heart, often in a nightclub context. With a wounded voice, he was shameful about their unfaithfulness, or his own, like on "Meant to Be".
His sensitive and dysfunctional side was not only underlined by his weird and shaky songs, but also by his posture and looks. In rap's macho world, this guy had a strange passion for doll heads. Trained as a beautician, he enjoyed painting them with some insane and unsettling make-up. Nothing was as usual, rap was no longer in its comfort zone, with I Love Makonnen. Everything was unexpected, especially the efficiency of his best songs, almost all excellent. After Drake made him famous, rap fans couldn't agree about him: some praised him, and others hated him... which is always a good omen. It showed that rap music had entered its new era; that we had stepped into something novel. And nothing is more exciting than novelty.