HAIL MARY MALLON - Bestiary
For someone so closely related to a bygone era – the late 90's, the years of backpacker rap – Aesop Rock is aging rather well. At least, he is not giving up. Now part of the Rhymesyaers crew, he released in 2012 one of his finest albums, the self-produced Skelethon. And the year after, he launched The Uncluded, a duo with the Moldy Peaches's Kimya Dawson, somehow the counterpart of Aes for folk rock, its intellectual and bohemian side. Also, in 2014, he launched again a project he had initiated a few years earlier, Hail Mary Mallon, a trio with DJ Big Wiz, and another unsung hero of New-York's indie rap scene: Rob Sonic, of Sonic Sum.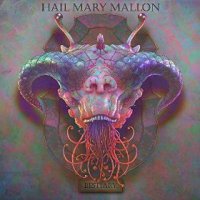 Rhymesayers Entertainment :: 2014 :: buy this record
This new album fulfiled all criteria, specific to the underground both rappers used to be emblematic of: virtuoso raps, with plenty of strange words and internal rhymes; voluminous boom bap basses ("Jonathan"); science-fiction beats ("Krill", "The Soup", "Kiln") and bizarre ones ("Picture Day"); and a little bit of rock ("King Cone"), reminiscent of the production style of these guys' ex-patron, El-P; good old scratches, generously provided by DJ Big Wiz; and multiple allusions to the pop culture, or to culture in general: Mary Mallon, for example, a.k.a. Typhoid Mary, was the person responsible for a typhoid flu epidemic, in the 19th century.
A change was visible, though, when comparing this album with the previous one, the too quickly and roughly packed Are You Gonna Eat That?, they had released in 2011, two years after their first collaboration on the fourth edition of the Definitive Jux Presents compilation. This time, both rappers and the DJ really cared about the record's completion. Beyond the two bangers that "Krill" and "Kiln" were, and some other strong songs like "Octoberfest", the whole album was quite solid.
On top of that, Aesop Rock and Rob Sonic, the figureheads of a rap sub-genre often considered as over-serious, had approached their subject matter with distance and humor. Even when the rappers were criticizing the obsession for wealth and money on "Whales", they did it in a lighthearted way. In addition, they had these few skits, where they talked about doing some fundraising for a bowling alley, before discovering that it had been closed since 1995. Maybe that was a metaphor, they were using to acknowledge that their kind of hip-hop had died in the last century – even if this very pleasant album was basically negating this.
Rate this entry
0/5
Note: 0
Votes: 0
Higher: 0
Lower: 0