What does Gucci Mane do, when leaving his cell? Well, naturally, he delivers a new mixtape. Actually, even when he is imprisoned, he does it, his friends making sure that the numerous songs he recorded before are largely distributed, so that the rapper remains in the headlines. The projects he releases when liberated, though, have a special flavor. They are a way to demonstrate that our guy is still relevant, that he is still fueled by a sacred fire, or to observe a potential evolution in his style. Such was the case with Writing on the Wall, in March 2009. That mixtape, indeed, launched a new era for the rapper, his best one maybe. As a matter of fact, across 2009 and 2010, he released some of his best projects, and reached a larger audience.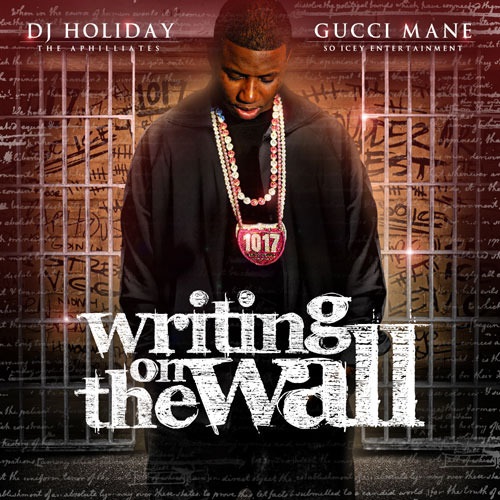 We can talk about the weaknesses of this release. They are expected, and accepted by any fan of Gucci Mane. Writing on the Wall, indeed, is too long, and some tracks are superfluous. And of course, DJ Holidays parasites the music every 30 seconds, when bellowing his "holiday season" motto, and delaying the start of the songs. But let's focus now on the strengths: these extraordinarily catchy and naïve melodies like "Hurry", "Going In", "First Day Out", "She Gotta Friend", and "We Got Dat", looking like they have been extracted from records for children or ancient video games ; or, on the opposite, the twirling synth pads like on "Wasted" ; and of course, this simple and mechanical rap, punctuated by the guy's "yeah" and "burr" adlibs.
The subject matters are equally unsurprising. There is actually just one. Gucci Mane, indeed, only cares about his jewelry. Sure, he also alludes to drugs, and to sex, here and there. But his main passions are his watches, and diamonds, and gold chains. He brags about them. He kisses them. He declares his love for them, on the introductive "Hurry". This is materialist rap at its most extreme, the kind that constantly says that, if it doesn't make money, it doesn't make sense. It is so absurd and over-the-top, with so many punchlines, that it is outstandingly funny.
Moreover, Gucci Mane had a few bangers in his back pocket, like "Wasted", with Plies, a "sex, drug & rap'n'roll" song that would be one of Gucci Mane's biggest successes - he would recycle it on his The State vs. Radric Davis album. Another one was the melodic "Game", with Kourtney Money and OJ Da Juiceman, that stands out on the mixtape with its sunny brasses and its reggae tone. "Girls Kissing Girls", about the rapper's lesbian fantasies, featuring Nicki Minaj, is another highlight, as well as "Perfect Diamonds", "Pussy Rehab", and their synthesizers.
Thanks to all of this, the recently freed rapper started a new fruitful phase with Writing on the Wall. Since he couldn't be ignored any longer, some argued that his style had improved, that he had a more complex and agile flow than before. Such evolutions, though, were very organic and barely perceptible. On the opposite, what we like with Guwop is his constancy. It is his successful way to use ad infinitum the same recipe, the same formula, and the same product, as those he already delivered as soon as in 2006, with his fundamental Chicken Talk mixtape.