The emergence of Alley Boy started with that release from 2010, a mixtape elegantly named Definition of Fuck Shit, hosted by DJ Holiday and The Empire. It began a fantastic series the rapper continued with another one named the same, and also Purgatory, The Gift of Discernment, and others. Thanks to that project, to the success of the single "Tall", featuring Young Dro, to some support from the man of the hour, Waka Flocka Flame, and also to his partnership with Atlantic Records, people started paying attention to him, beyond his own city.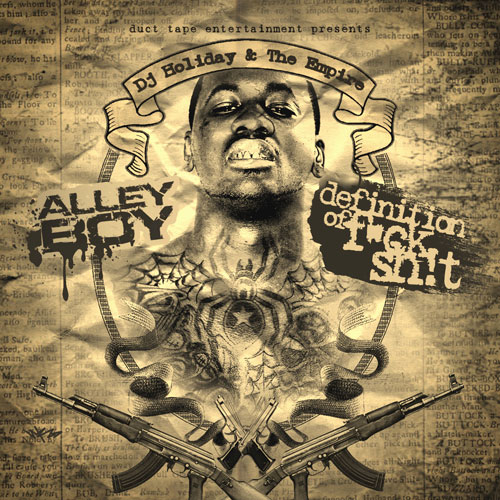 Prior to this, Alley Boy had already built his place in Atlanta. In 2005, while imprisoned, he and Big Bank Black, his soul brother, had decided to launch Duct Tape Entertainment, a new collective and label, and to focus their efforts on rap. Inspired by Gucci Mane, whom Alley Boy had connected with a few years back, they went the typical way, switching from thuggery to hip-hop music. As a matter of fact, the guy had a real background, in terms of delinquency. Grown in Edgewood Court, one of Atlanta's less reputable neighborhoods, and raised by his grandmother, both his parents being junkies, he started dealing as a young teenager, and was jailed for the first time by the age of 19, on murder charge. His alias, as a matter of fact, comes from the prison alleys. Prior to that experience, Curtis Freeman had been known as Lil' Curt.
As a rapper, Alley Boy kept his brutal and scary personality. In 2011, for example, he and his band published a video of them kicking Yung L.A., a former protégé of T.I., who had tattooed the logo of Duct Tape - a duck… - on his face, though he didn't belong to that gang. The guy was no joke. He was dangerous. And that's precisely what he marketed on Definition of Fuck Shit: his genuine experience as a criminal, his authenticity, and the real sound from the street. This was all about the clichés and the routines of Atlanta's trap music, thug stories, gun obsession, and bombastic 808 sounds, but with an intensity that grabbed you by the throat, and was stronger than the competition. This was a mixtape, with all its flaws: too many tracks, useless skits and DJ Holiday's painful shouts at every turn. And though, it was everything but boring.
There was "Tall", of course, but it was even not the most striking track. Other highlights such as "50 Bars of Poison", "Rappin' & Robbin'" and "Throw It Up", were even stronger and catchier. They were punchy and breathtaking, exactly like bullets from the machine gun that could be heard here and there on the mixtape. Same with "Get to It", a track producer The Devil would recycle in 2014 on his conceptual mixtape dedicated to the theme of violence. Moreover, while staying in trap music territories, Alley Boy and his beatmakers knew how to diversify their offer.
In addition to the bangers, we had the organs on "You Dont Know" and "I'm Strapped", the quieter sound of the solid "Campaign", and the bouncy "Play Maker", a track produced by Zaytoven and, as a result, sounding very much like a Gucci Mane song. All the violence was counterbalanced by more melodic times, like with "Alone", an Auto-Tuned lament, Kool Ace's weird hook on "Dont Hate Me", and, a less compelling, an R&B-influenced "Shiester". That mixtape was an extraordinarily dense 73-minute-long feast. And though, it was just a beginning, it was the first of other releases where Alley Boy would never change his formula, but where he would keep his hotheadedness, where he would maintain the same ardor.