By Any Means was released in early 2014. It is the third mixtape in twelve months for Kevin Gates, and it is once again an outstanding one. The Baton Rouge rapper persists with the style that made The Luca Brasi Story and Stranger than Fiction two of the most successful projects in 2013. This time again, he shows up as an emotional criminal. He is still posturing as a suffering gangster. He is also still good with melodies, and thanks to them and to the Atlantic label, he has recently joined, he should be a star soon, though his is still some kind of harsh street rap.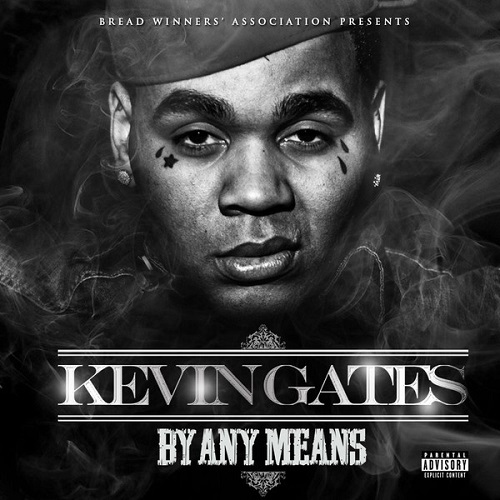 Kevin Gates is good at delivering threatening trap anthems, like "Keep Fucking with Me", jointly with the good old Plies. On one hand, his stories are about revenge and urban violence ("Homicide"), drug trafficking (the excellent "Arm and Hammer") and road to riches ("Just Want Some Money"), and he is still tough with the competition in his 'hood ("Get Up on My Level"). But on the other one, he shows a sensitive face, for example with the delicate "Movie", a song about the births of his children. And sometimes, both registers, the rude and the fragile ones, are combined into one song, like with the great "Can't Make This Up", where the rapper talks about the trials he went through in his life, and shows up as a survivor. Such is the case as well with "Posed to Be in Love", where Kevin Gates, a harmed lover, falls into domestic brutality.
The music is on par with this torn and paradoxical character, Kevin Gates excels at impersonating. There are a few catchy hooks on By Any Means, like with "Again" and the unstoppable "Wish I Had It", and even some syrupy R&B, with Rico Love's contribution to "Go Hard". However, the mixtape also has gleaming synthetic beats, as typical with trap music, electronic oddities like "Stop Lyin'", and some shady sounds, like with that "Amnesia" recorded with Doe B, just before the promising Alabama rapper was shot down, by the end of 2013.
Once again, Kevin Gates shows he is a figurehead in a new wave of rappers, those who are as brutal and rude as before, but also more vulnerable. He is one of the most accessible among them, as demonstrated by the bangers on the mixtape. Unless there is an accident, unless Kevin Gates gets scared by his success or he goes to prison, he is on a highway to stardom.