Based in Brooklyn, The Underachievers are presented as affiliates to the Beast Coast movement, a band of rappers somehow associated with A$AP Rocky and his A$AP Mob collective, and whose most prominent member is Joey BadaSS. And though, they have been publicized by someone located on the other coast. Flying Lotus, indeed, asked them to join his Brainfeeder label. This kind of support or proximity is not necessarily the most appealing. A$AP Rocky, Joey BadaSS, Flying Lotus… all these guys are critics darlings, sure, but they are sometimes overrated. The new craze for The Underachievers, though, is entirely founded: Indigoism is one of the most praised mixtapes since the year started, it is no less than brilliant.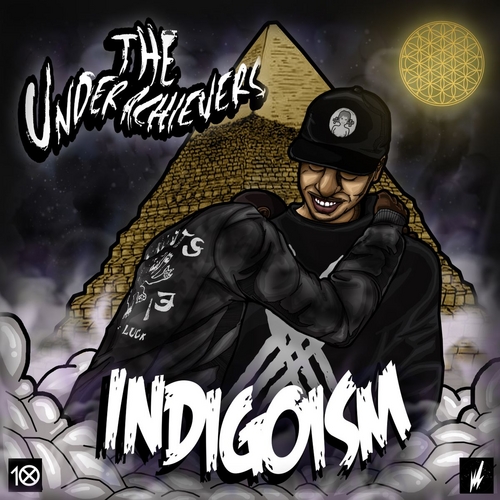 We are not too far from Joey BadaSS and his tedious revivalism. Indigoism, indeed, is reminiscent of the late 90's, when New-York's classicism went back to the underground, when it glorified the plasticity of the raps and the strangeness of the beats. Like in those days, rappers Issa Dash and Ak, supported by a few beatmakers – most noticeably Mr. Bristol and the Entreproducers – favor a kind of rap entirely made of technical flows and habile internal rhymes, with a pinch of social commentary, like on the song "Root of All Evil". And to this, they add a bit of esoterism, like Scienz of Life or The Lost Children of Babylon in the old days.
Drugs are their main theme. Instead of exalting them in a nihilistic mode, though, like their contemporaries, they do it the hippy way on "Revelations", "Maxing Out", "Herb Shuttles" and "Potion Number 25", as keys to the doors of perception. The music also is influenced by narcotics. It is atmospheric on "Herb Shuttles", "T.A.D.E.D.", and the organ of "Revelations". It is psychedelic on "New New York", possessed on "Play Your Part", or abysmal on "So Devilish".
Such formulas have precedents. And though, The Underachievers and their producers are above the competition. They have strong melodies on "Maxing Out", "6th Sense", "Gold Soul Theory", and the beautiful "My Prism", and "The Mahdi" which has a beat evocative of the Souls of Mischief's "93 'till Infinity". They are to be distinguished from their colleagues and sponsor, for their ability to embody New-York's classic rap heritage, while sounding perfectly modern.