A long time ago, Mac Lethal, a white rapper from Kansas City, received some praise. It was by the beginning of the 2000's, when he won or was second to several editions of the Scribble Jam contest, and was sponsored by Jay Seagraves' Hip Hop Infinity, a reference webzine for the indie rap scene, which released the guy's first album. Ten years later, unfortunately, names like Scribble Jam, Jay Seagraves and Hip Hop Infinity aren't meaning anything to the new generation. And now, despite his short time with Rhymesayers Entertainment and the album he released there, 11:11, Mac Lethal seems no longer current.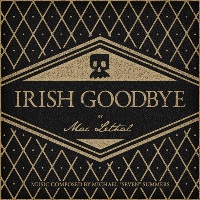 Black Clover Records :: 2011 :: buy this record
Unexpectedly, though, with the help of resources like Tumblr and Youtube, the rapper recently came back under the light, thanks to some crazy video showing him rapping while cooking pancakes, which became a global buzz on the Internet. Surprisingly, Mac Lethal even made it to the French TV. By then, we realized that David McCleary Sheldon – his real name – never called it quits with rap music. As many of his colleagues, who never really made it, he was keeping on releasing mixtapes, or even real records on his own label, Black Clover.
Irish Goodbye was released just after the pancake video, on December 31, 2011. And obviously, with this record, Mac Lethal was trying hard to capitalize on his renewed notoriety. The title sounded like a resignation – an Irish goodbye is when one leaves a pub without saluting his friends, explained the rapper on "No Miracle". But in fact, the content was saying the complete opposite.
This album was full of bitterness, true enough, more particularly on the introductory track, theenraged "The Parlour", where the rapper, quite angry, was attributing the failures of his career to his willingness to stay real, blaming medias like Pitchfork for praising demagogic trap rap like Gucci Mane's, instead of the more authentic and honest forms of hip-hop like, according to him, his own. Disgust and rancor were never too far on Irish Goodbye; however, the beats of Michael "Seven" Summers – a frequent collaborator of Tech N9ne, the best rapper in Kansas City – offered melodies and catchy tunes which proved that, finally, the guy hadn't fully abandoned his hunger for success.
The album was also full of light-hearted tracks, and nice hooks anybody could whistle in the shower, like with "Morimoto (Just Duet)", "Aviator", "Wooooo!!!", "Every Night" or the weaker "Happy to Be Living". There, Mac Lethal was saying that his life was great, or that he was happy to be happy, and the beats were in the same mood: optimistic, welcoming, rich and warm, from the strings of "Vodka Tonic With a Lime" to the eerie feminine voices of "Black Rainbow" and "Now Miracle". Mac Lethal wasn't confined exclusively to cynicism and acrimony; he could also posture himself as a wise and sensible rapper, reflecting on his life on "Quarter Life" and "No Miracle", questioning the attitude of an easy girl ("Slut"), or, with the appropriate help of some local folk music, exploring his Irish roots through the love and migration story of his grandparents ("Jake + Olive").
Irish Goodbye is, almost, Mac Lethal's mainstream album. He is no Macklemore, though. No demagogy for teenagers there. And, as a result, no international success neither – the guy, anyway, never looked like a rock star. This record showed, however, and as lately as in 2011, that this archetypal product of the early 2000's indie rap scene could still be alive, convincing and relevant.