Rap music is still going well in Atlanta, judging by the output of a Gucci Mane, the advent of new stars like Waka Flocka Flame and Future, and the hype around newcomers like, for example, Trinidad James. The good musical health of the southern city is also blatant, judged by the high productivity of the main affiliates to the Duct Tape Entertainment collective, like Trouble, Pesci, Eldorado Red, and its funding member Alley Boy. In the last couple of years, that guy has released some remarkable mixtapes, like Purgatory in 2011, with DJ Drama, or Nigganati and The Gift of Discernment in 2012, with The Empire. And more recently, in 2013, he also recorded a great New World Order with Fat Trel and the veteran Master P, as a member of the Louie V Mob trio. Each one of these releases had outstanding tracks, but if you are looking for the one with the most bangers, then maybe you should opt for Definition of Fuck Shit 2, the second installment of the series that, in 2010, helped him getting some attention at a national scale.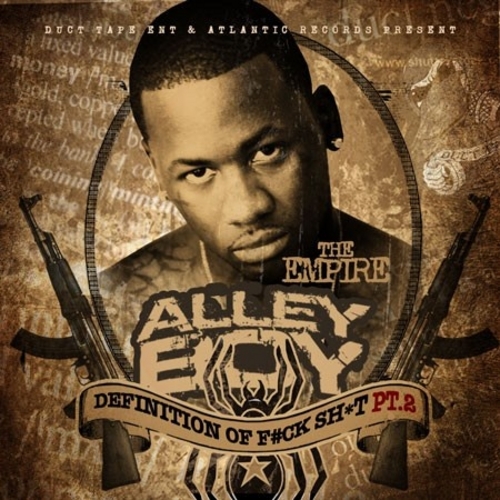 On that mixtape, Alley Boy came back strong. Judging by the featurings, he was now entering the big leagues. Apart from expected members of Duct Tape Entertainment like Veli Sosa and Eldorado Red, he was supported by a few notorious rappers: Young Jeezy, Freddie Gibbs, Gangsta Boo, Project Pat, Big K.R.I.T., Yo Gotti and the excellent Trae, who spiced up the very good "Candy" with his deep voice, and also, on the producing side, Lex Luger and DJ Toomp.
Definition of Fuck Shit 2, such as all other mixtapes from Alley Boy, was not revolutionary. It was made of the usual stuff. It was full of a brutal and unapologetic trap music, delivered by a self-proclaimed uncool guy, with proud, tumultuous and bombastic synthesizer beats, and the rapper's usual "ooouuh" adlibs. It was entirely made of these, except for the introspective songs Alley Boy had in common with the other star in Duct Tape, Trouble. These were placed by the end of the mixtape, like a rather foul "Ease the Pain", and a much stronger "When I Die".
There was nothing new under the sun of Atlanta, but this release had everything required. It had aggressive, blustering and triumphant raps, especially on the strong "Four", with Jeezy and Yo Gotti. It had anthems for bad boys – and for bad girls as well – like "Rappin' & Robbin' Pt. 2", with Gangsta Boo and Lil Cap. And it had quieter and more melodic moments as well, like with the strings on "Rob Me a Nigga", a production by Big K.R.I.T., the strange "Up & Runnin'" with his partner in crime Trouble and a few other folks, and Rock City's hook on "Every Time".