A strong motivation is required, to whoever wants to keep track of Gucci Mane's innumerable mixtapes. For eight years, the Atlanta rapper has released plenty of them, relentlessly. Look: even before we finished to listen to that new one, Trap Back, he announced two others, ''I'm Up'' and ''Trap God''. It never ends. It never stops. It is so quick that even a website for music enthusiasts like Discogs is losing track of such releases. That specific project, though, the very first Radric Davis proposed in 2012, is not to be ignored. Actually, it is totally outstanding.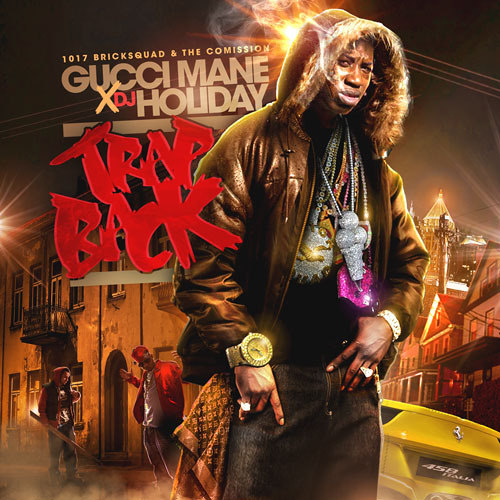 Its title sounds like a comeback. It looks like the rapper wants to go back to the roots of his specific blend of trap music. And as a matter of fact, it is exactly that. On his way to stardom, and after a year 2009 many see as his heydays, Gucci Mane got lost, and faced serious troubles with the law. By the beginning of 2011, he was ordered to a psychiatric hospital, and at the end of the same year, he was given a jail sentence. His releases, also, got less captivating, like for example the mediocre BAYTL, he unexpectedly released with V-Nasty, a rapper from Kreayshawn's White Girl Mob. But with this new mixtape, our man(e) is back to the right rails.
Unless you are still shocked by this kind of rap, unless you can't stand listening to a guy bragging about achievements like being rich or dating a white girl, and dedicating a large part of his lyrics to narcotics sales and consumption, like on "North Pole", where he compares his sweet occupation as a drug dealer to the nice and decent job of Santa Claus, Trap Back is great.
A key strength there is the beats and the production work. On "Back in '95", the rapper revisits his small-time delinquent background, on a charming synthetic tune from Sonny Digital. Drumma Boy's horror movie-like music on "Thank You" and "Sometimes" is just perfect, as well as the unrelenting beats of "Chicken Room" and "Club Hoppin'", and the whirling one on "Okay with Me". But Gucci Mane, despite the criticism against his lyrical skills, also plays his part. He is great, when he switches to a double-time flow on "Back in '95", or when the soft tempo on "Quiet" becomes more vigorous, jointly with the production. And honestly, can anyone name a rapper who, like he does on "Get It Back", can change the soundtrack of Tetris into a banger?
In addition, Gucci Mane solicits the right guests, like the expected Waka Flocka, Yo Gotti and Rocko, like Future and 2 Chainz, and even Jadakiss. All in all, this is just Gucci Mane's best recent mixtape. It has almost no filler and it is, undeniably, one of the outstanding projects of the year.