From France, Hue is just an unknown Japanese label far far away which distinguished itself recently with brilliant releases. Can you tell us a bit more about who is behind Hue and where the label is based in Japan?
I am Shin Ohsaki, who is in charge of the label called "hue". hue was established in March 2005 and it's one of the labels run under Inpartmaint Inc. We are also distributor called "plop distribution" for electronica and experimental music. I started working at this company from June 2004. And we started distributing this kind of indie rap then. I wanted to start a new label for the unfamiliar music and that's why hue started.
The albums you published so far are releases and re-releases from Canadian or Belgian indie hip hop artists. How have you hooked up with people so far away from your homeland?
Because of the spread of the internet, it got easier for us to find new music as well as for the artists to spread their own music to the world and collaborate with other artists. In fact, every artists we published are the friends each other.
How have you collaborated with them? Was it through emails, mails and phone calls, or have you met personally?
We've been working together through e-mails as Japan is geographically isolated and it's difficult to meet. But I hope I would meet everyone here in Japan or in their homeland someday. It would be my great pleasure.
I interviewed Siaz from Cavemen Speak and Zucchini Drive about 6 months ago, and he told me he was impressed by the attention you put in packaging, for example by translating lyrics from English to Japanese. Is this attention and effort a prerequisite to any Hue release?
Almost all the Japanese don't understand English but want to know what issues the artists sing. So we sometimes put translating lyrics. It is not a prerequisite but it's kind if we put some kind of the translating lyrics or liner notes. But it's hard as I usually translate or write it by myself...
You've been very selective with the albums you released and the tracks that are on your Hue and Laugh and Cry compilation. And according to me, your choice are very good, you really publish what's essential on this indie rap scene. How do you do that selection work?
Thanks! Simply I released what I like. We're allowed to do what we like for selecting the releases. So I can work for hue. In fact, I think I cannot do the same in another company. hue is the only label for this kind of indie rap in Japan! Regarding Hue and Laugh and Cry, I wanted to make some kind of the guide to the indie rap scene and I'm satisfied with this. First I offered them to give us their songs for our compilation and everyone accepted our offer willingly. It took a long time to finish but we are glad as we've got good reactions.
Have you planned to make your releases available on other markets than Japan? Is this something you'd like to try?
Of course, we've tried to look for the way to spread our releases to the world but it is quite different as distributors sometimes don't like to work with more new labels. We understand their situation as we are also a distributor. Any way, we would like to progress little by little.
Apparently, Hue is a kind of hip hop sister of Plop, a label more specialized into electronic music. Can you tell us a bit more about this label and the artists on it?
In fact, Plop label is no longer under our company as a person in charge retired and now he is a freelancer. So to be precise, we are not sisters... though we are like sisters haha. "Plop distribution" and "Plop label" are parting so it sometimes made someone confused. Plop is one of best excellent and electronic labels in Japan and has got the worldwide acclaim. Gel: from France is included so you might know...
How did a Japanese guy like you entered hip hop in general, and this kind of indie rap more specifically?
I think general hip hop fans don't listen to indie rap like our releases. Sometimes they say they don't like us. There's a difference between general hip hop listeners and hue listeners.
What are your favourite artists in hip hop, apart from Hue's catalogue?
I like Astronautalis and Otem Rellik recently.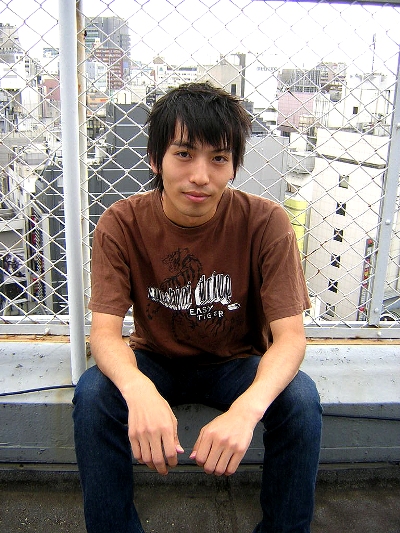 Here in Europe, we always have the feeling that lots of underground artists who are unknown in their homelands are big in Japan. Is that true? What is the audience for artists such as Cavemen Speak, Factor, soso and the Chicharones in Japan?
Yes, almost true. In Japan, many listeners are looking for unknown good music. Many records are gathering from all over the world to Tokyo. The sales of CDs are getting smaller and smaller but Japanese listeners are always interested of underground music. So the Japanese market is important for many indie labels. Even we think it is strange that this kind of indie hip hop has been sold at most 1000-1500 copies only in Japan!
What about Japanese rappers? Are there any equivalents to soso or Josh Martinez in Japan?
There are good rappers in Japan though they are unknown outside Japan as they rap Japanese. Japanese rapping might sound strange for you, but you might like some Japanese rappers.
What's Japanese hip hop current state, apart from this kind of indie rap?
I am not sure...but there are few artists of such kind of indie rap in Japan. At least in the indie scene, there are various styles of hip hop and artists are always making more beats, listeners are looking for more dope ones. But I say that things are changing too fast in the music scene especially in Japan. So it is difficult to continue a label for years.
The Japanese hip hop artists I know are DJ Krush, DJ Honda, Shing02, Boss and ONO from Tha Blue Herb, KK the Khaosist and the Living Legends affiliated Arata. What's you opinion about them? Are they artists you like?
They are great artists. Shing02 and Tha Blue Herb are the first Japanese hip hop I listened to in 1999, when I was in high school. It was so shocking for me.
Do you plan to release records from Japanese hip hop artists sooner or later?
I can't let you know the details now but we're hoping to release an album by a Japanese hip hop artist next year.
What are Hue forthcoming and planned releases? Can you tell us about your ambitions?
Our next release is a kind of best album of Factor (Side Road Records). It will be out in November. He is a wonderful producer and making many good songs. So we thought we could make a wonderful album if we compiled the best songs he made.
Do you have any special message to end this interview with?
Thanks for your reading. Please keep in mind "hue" and check out www.inpartmaint.com/hue. We're expecting any good chances in the future.