I must confess I was not familiar with Arizona hip hop before discovering you. I just knew the Drunken Immortals and Morse Code. Are you related with these people?
The Arizona hip hop scene is the shit. We have tons of dope musicians, artists, and cool people involved. I am related to Drunken Immortals and Morse Code through a massive collection of talent called the Blow Up Co-Op. Essentially the Co-op is a large group of movers, the cats who have been at it relentlessly for years. People like Universatile Music, Drunken Immortals, Avenue of the Arts, Antedote, Dumperfoo, Furious Styles Crew, The Blunt Club, and so many more.
What's Courdek's own story? How have you entered the hip hop game?
Well I'm told by my mom that I was dropped off in her backyard on a hot August night in 1983. Supposedly out of a spacecraft from the newly discredited planet Pluto. But that one might have to be taken with a grain of salt, haha. I was introduced to the roots of hip hop culture by the founder of the bboy crew Furious Styles, Bboy House. He was at my high school the first week of my freshman year promoting a local center where he taught a bboying class. In high school I was an outsider. I didn't subscribe to any click, I just did my own thing and kept to myself. So when I tried out this bboying class it was way out of the norm. Of course I instantly fell in love with the art form and jumped right into discovering the rest of it.
Your Synchronicity album is one of my favourite records this year. I was impressed by the kind of balance, equilibrium or harmony you have between each track of it. How have you prepared this album? Have the songs been recorded in a long term or just in a few weeks?
Synchronicity was written and recorded over the past three years. Much of the stuff that made the album was within the last year, but the album's spirit was most definitely a journey of 3 years. Lots of changes occurred throughout my life during this time that really affected my way of thinking and sent me off onto new paths. Most of the tracks were first finished to about 85% and then the final versions were completed in the last 2 or so months before completion. That allowed me to adjust where need be to fit the tracks together the way I wanted.
I've read that you've learned playing several instruments in the past. Is this something you used in your music and on your album?
Somewhat. I'd say the past instruments were a good start but they really didn't have too much of a bearing on the new music. Once I learned to make beats it fit with me more so than something that required unbelievable dexterity like guitar or piano. Samples are undeniable in hip hop music, so I try to incorporate them as best I can but also try to compose as much as possible.
Can you tell us about the origin of this Avenue of the Arts collective you're part of and how you met with each other?
Avenue of the Arts is a formation of people of like minds and different talents working together for a common cause. That was the point of it really. We all came from other crews or groups that weren't moving forward at a rate we wanted. The crew consists of StereoTyped (Ame Doogan & Beatnic), Mykr Fiend X, Ill Al the Anglo-Saxon, DJ Les, Ohm, and DJ Blesd. I met Anglo through a mutual friend and was introduced to the rest of the crew through him.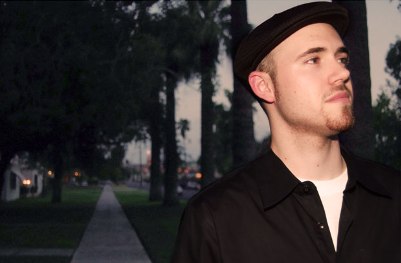 What are the current projects and forthcoming releases for AOTA?
We are currently working on an AOTA album. After 3 solo releases and a mixtape compilation we are ready to put forth a crew effort. Current releases are Ill Al's Unplug, StereoTyped's Stereophonic Travelers, my album Synchronicity and Ill Al's Amongst Friends mixtape showcasing the dopest artists of Arizona. Ill Al's sophomore effort Dungeons & Dragons is nearing completion. I myself am working on a few instrumental side projects involving an alter ego as well as my next solo effort. StereoTyped is also currently working on a second album. Soul Collectibles, which is Mykr Fiend X and DJ Les, have an album done that is being mixed and mastered and will be released in the next coming months. Ohm is also working on his debut album.
We discovered you through the relationship you and your fellows have with Californian artists such as the Shapeshifters, Busdriver and LMNO. How are you related to the West Coast Underground hip hop scene?
Aside from doing shows and a few small tours, I'd say inspiration. Cali being right next to Arizona of course has a good fan base out here. The west coast underground has been a big inspiration and indubitable influence on me. Other than that my crew mate Ill Al recorded a track with LMNO for his album Unplug called "Lead". That was also produced by the Shapeshifters own "Life Rexall".
What kind of hip hop have you grown with?
I grew up listening to hip hop on the radio. Which at that time was the shit. Like most I'd tape the dope shit off the radio and make my own tapes of songs. My early favorites were A Tribe Called Quest, De La Soul, Gangstarr, KRS-1/BDP, Mobb Deep, Wu Tang, Nas, Jeru, Common, Jungle Brothers, Run DMC, The classics like Grandmaster Flash, Cold Crush Brothers, Slick Rick, Dougie Fresh etc. Underground stuff later like the Living Legends, Hieroglyphics, Freestyle Fellowship, 2Mex, Company Flow, Del.
And nowadays, what kind of artists are making hip hop still alive according to you?
I'd say that Stones Throw Records is putting out a lot of stuff that I dig a lot. Madlib is amazing. I've liked all the recent MF Doom records. Mos Def, Common's Electric Circus album is a step above in my book. The new Jdilla's, Oldominion, Living Legends. There's a lot out there, I really think that with all the access to equipment and promotional tools like myspace everything is very saturated. There's a lot more talent available now but a lot more shit to sift through.
Have you any major influence outside from hip hop?
Yea of course. I'm influenced by a wide spectrum of music. I love funk music. I could listen to bboy breaks forever. Jazz, soul, rock'n'roll, electronica, chill out/trip hop, alternative, and genre-defying music. I'm really influenced by music that breaks barriers and blurs lines. I'd rather remain uncategorized then to be type casted into a specific genre. Music for the mood. Whatever works at the moment.
Have you any final message to end this interview with?
Big ups to everyone in France.
Much love to fakeforreal.net for this interview and the kind words about the album. Thank you to all who have supported the album. Shot out to the all the homies in Arizona.
Follow the synchronicity!