You're simultaneously a rapper, a producer and a label manager. What were you basically? How have you entered the hip hop game?
I'll start with the latter; I got into the "game" by fucking around, basically. Losaka, Hippo and I were always writing songs and recording stuff on cassettes, we would give them to friends and we got a great response back from them so we decided to take it seriously and start being professional about it to a greater degree. I had always played in school bands and such growing up (sax,drums) and my father was in different local bands where I would listen to him play so music and making it has always been a big part of my life. Then around 97-98 Losaka was the first to buy an Mpc, we all would try to master it and make our own beats, we would write to those beats and record them (we were very much in the growing stages). Los and I both attended the same school for audio engineering. He graduated, I dropped out. We decided to start an artist run hip hop label which you now know to be Fingerprint Records. This is where the Business side of things started for me. So I started out writing in 97-98, playing instruments and the production aspect was always kind of there waiting to be tapped and I gained more of a grasp of what it is to be a producer in school and when we started Fingerprint that's where the business side of things showed up in my life. I guess if the ultimate question is where I feel my stronger point is within the three I would have to say production.
Where does the Eibol name come from? What does it mean?
OK, lot of mispronunciations on this one! The name is pronounced like "eye ball". When I was younger my mom used to drop stuff and lose shit all the time. She used to say I had eagle eye balls and I remember her always calling me to help her find misplaced stuff or shit she had dropped, like the back of an ear ring or something she couldn't see on the floor...I would find it in like 2 seconds and be like it's right here, when she had been looking for an hour before she called me. Touching isn't it? Hahahhaha. I acquired the unconventional spelling the first night I went out with some friends who were going bombing "eye ball" was too long so we shortened it to Eibol so I could write it quicker, which didn't really matter considering I was a toy and we were bombing the suburbs!
What kind of hip hop have you grown with?
I grew up with tons of stuff, I grew up around lots of older kids in the 80's and 90's so I was exposed to more than I should have being I didn't have any older siblings, and I am thankful for that. I was put on to everything from Brooklyn afocentric stuff like X-clan, the Native tongues (Jay Dee, whether I knew it was him or not) to west coast RbL posse (thanks Los and Hippo) I was always super influenced by the Native Tongues and Digable Planets stuff, but I never limited it to just that. I had a boy whose older brother Germaine would make me mix tapes in the late 80's and early 90's.... What I would pay to still have those tapes today!
And what are your favourite hip hop artists nowadays?
My favorites of course now would be all the Guys I work with on Fingerprint, not only cause I think they are great artists with something to offer but cause of the inspiration and push they dish out, how can you not like someone who makes you step up your game? Aside from Fingerprint I would have to go with cats like J-Dilla (always and forever R.I.P), Lodeck, Andre 3000, Cee-Lo Green, Count Bass D, Doom, Dan the Automator, Prince Paul, Madlib, just to name a few... don't get me started on other genre's. I think it is nice to have firm balance of music interests so I do not limit myself to just hip hop 24/7.
You've been active for several years, but your first solo album, Karma Kingdom, was only released last year. Is it a compilation of old material or was it recorded recently?
NO, Karma Kingdom is and was set out to be a new project of mine. I wanted to handle all the production and writing on this record. I took my time with the project, chopping records mixing sounds with live instrumentation and really experimenting more with "my" style. I wanted to create something I was going to be able to listen to in a couple years and still be proud of and not cringe. I am happy with the outcome.
According to me, Karma Kingdom was one of 2005's best hip hop albums. Is it an opinion that was shared by other critics? What feedback did you get about it?
Thanks, that makes me feel accomplished to a certain point when I hear something like that. The consensus was good, I was excited to see the public gravitate towards the project and still have a lasting affinity for it. People have been very vocal about how much they dig the album. I was reviewed for it in URB magazine where they stated I could dethrone DJ Shadow... Which I found hilarious considering I used pretty much dollar bin records to create that record. I'm sure it is not luck I have gotten such positive feedback thus far, I worked hard on this project and I think I created a album everyone can grab something from and I think people respect that.
Karma Kingdom was just released last year. Do you plan another solo album soon?
I have another solo album in the works; I am not one of those artists who feel they need to drop a record every 3-4 months to stay relevant. Since I juggle so many hats on one project I like to take my time and try to create the best possible piece of work I can before it hits outside ears. I have been toying around with lots of ideas for this next project, but I am still touring for Karma Kingdom here in the States so I am not rushing anything.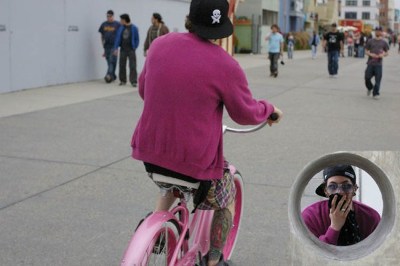 It seems Fingerprint Records has already a little bit of history behind it. Can you tell us shortly the story of this label? Are you its founder?
Basically Losaka, Hippo and I met in High school where we started creating music together as "Hand Held Aspects". After some college years we decided to start a label and see how far we could take our music as well as some other local talented artists who we felt needed to be heard. Fingerprint Records was officially launched July 16th 2002. Since then we have included Nobs, Dez, Atypical, Erosadis and DJ Gyro to the roster, released 12 albums and been on 4 coast to coast U.S. tours. Oh, and we are having the time of our lives, catch up with us here: www.fingerprint-records.com.
How huge is the Fingerprint fan base nowadays? Is it something you can estimate?
The fan base is on a rapid incline for sure. We tour hard for the promotion of our records. We have distribution in the U.S., Canada, Japan, and Europe so I know the music is getting out there and people are picking it up but no, I do not think it is something you can estimate. Word of mouth is my favorite tool, I can tell you that much.
Can you tell us about Fingerprint's newest release, I mean this new album from Nobs and Dez?
Yeah, this is one of those projects we couldn't wait to release, produced by Nobs and written by Dez the album is fittingly titled Behemoth. The record is aggressive, unapologetic and raw. We recently had Dez, the Albany New York native sign to the label this year and I am excited to have him on the roster. He is one of the hardest working people out there; you can quote me on that! When listeners hear Behemoth they will hear what happens when a producer and an MC mesh together seamlessly. You can pick up Behemoth here:www.fingerprint-records.com.
Nobs is one of Fingerprint?s key artists. I remember his first album, Musicide, was released on Brad Hamers? 3 Sides of a Circle label. How has he landed on Fingerprint?
Yeah Brad released his first CD on 3 Sides. To make a short story sound short, Nobs contacted Losaka after reading a review for his album and then Los gave me his music and his information where I later contacted him and set up a "meeting". We all really got along especially on our future goals and we respected the music he made, so I guess you can say the rest is history. Nobs is another hard working cat, plus dude is like a brother, correction dude is like my crazy, super talented little brother.
Is a Fingerprint tour in Europe planned sooner or later?
I would hope to say sooner than later, we have been working on some things for quite sometime now. It takes a lot more planning to tour Europe than it does the U.S. for obvious reasons. We have to carefully map a route so we optimize our time spent in each location, plus we are building more and more contacts out there so it just takes some time. One thing I have to stress is if kids really want us out in their area, then they should talk to their local promoter or clubs, make sure they know people are interested in seeing our live shows. We need our fans in Europe to be proactive to get the name buzzing so we can get things going out there faster. We love the support we have out in Europe and we want a chance to rock for all that show love. If anyone would like to book myself or anyone from Fingerprint. Please contact Booking@fingerprint-records.com
Any special message to France and the French?
Merci tout de prendre le temps de donner lecture cette revue. J'apprécie tous les appuis ! Si vous n'avez pas acheté une copie de Karma Kingdom la commander ici : www.fingerprint-records.com.
Vous voir tout bientôt !
Je devine qu'ayant une amie française payed par le passé au loin !
Oh, and check out Claude Debois his stuff is fresh, "Ville" is one of my favorite songs...