Slug is one of the most singular and important artist of the indie rap scene that started to grow at the end of the 90's. A model for the fast-growing Mid-West underground scene, he was able to find a kind of third way between rap conservatism and exaggerated avant-gardism. Personal, sometimes introvert and candid, some others harsh and cynical, and a collaborator with many other rappers, he became the kind of missing link between all the contradictory universes of indie rap.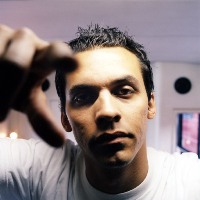 Slug's background and youth are just as complex and paradoxical as his status as a rapper. The elder of three sons, Sean Daley was born in 1972, just two weeks after his parents' wedding, while they were just 19 and 17. Born in a family with roots in Scandinavia, her mother Valerie was coming from the country, while his father Craig, the son of a black jazz trumpeter and an Irish woman, was a bassist in a funk group in Minneapolis: Salt, Pepper & Spice.
Sean grew with his mother, as she divorced and married another man. They lived in Minneapolis southern area, in a cosmopolitan neighbourhood. The kid became quickly fond of hip hop, encouraged to participate to a break-dance contest by a father who wanted his son to become less shy and introvert. Then hip hop was only from New-York, and the young Slug adopted all the hypes coming from the Big Apple. Despite his white skin, he becomes more and more proud of his black blood, visit more and more the black community and leaves his mother for a while to live with his mixed-blood ?? father.
There, at Washburn High School and through a common friend, Derek Turner, Sean Daley met a hip hop fan by 2 years his elder, Siddiq Ali. The three of them decided work together and to adopt a pseudonym that starts with an "s". Siddiq became Stress, Derek was Spawn and Sean chose Slug, a word which double-meaning perfectly fitted with the guy, by mixing the fragile small animal and the danger of the gun. This new alias was also supposed to be the acronym for "Sean Likes Ugly Girls".
But in 1993, Slug was still looking for his way. For a while, he preferred hiding behind the turntable, with Spawn as an MC and Stress as a manager in a band which name is then Urban Atmosphere. The small group that would become the Rhyme Sayers collective started to grow slowly with the arrival of Anthony Davies, Beyond (the future MC Musab), Gene Poole and The Abstract Pack. Slug's band, now named Atmosphere, changed as well: Spawn left (he would later come back as Rek The Heavyweight), the DJ became an MC, and Anthony soon replaced him as ANT. Later, they would be joined on stage by MC Eyedea and DJ Abilities.
Their many freestyles and performances allowed progressively Atmosphere to make a name on the Minneapolis scene and to become a kind of reference, and the whole local hip hop finally changed through them. Just as national hip hop, rap in Minneapolis was reputed for being a place for gangsters and violence. Some polemics happened, for example with an article in the St. Paul Pioneer Press titled "Bad Rap" or with the process of this Shannon Bowles accused of having killed a cop encouraged by a rap poem in 1993 (he was then defended by another cult rap bands, the Micranots).
In 1996, Slug, Stress and Beyond were noticed for calling on the national radio for a positive hip hop liberated from the claws of major labels. Calling for rappers to defy them, they helped make Minneapolis' scene more visible. Then, Atmosphere benefited from the big transformation of hip hop created by a new flow of independent artists. Slug's personal and intimate rap was a violent contrast to the usual fanfaronades and a main selling point for Overcast!. Published in 1997, the first Atmosphere album is now considered as one of the founding classics of independent hip hop.
At the end of the 90's, Slug became a key player in underground hip hop. A complex and contradictory guy, he became associated with opposite rap trends. While some tended to associate him with Common or Mos Def's conscious rap for the conscious side of his raps, some others compared him to an Eminem who was them still far away from MTV, young groupies and Dr. Dre. This comparison was aided by a hidden track on Overcast! where Slug simulates an extremely violent and misogynistic dispute with his wife. Later on, scared by dozens of kids singing the lyrics and taking them for granted, Slug would refuse to play this song again on stage.
Afterwards, Slug's career continued in the underground. One of the key events in his life would be his meeting with Live Poets' Sole and with Dose One. Those three white guys with a different and introspective approach to hip hop discovered then they had lots in common. They met in a studio this famous 26th of June, 1998 with Alias and recorded the core of The Taste of the Rain... Why Kneel? album under the band name of Deep Puddle Dynamics. This record would be published by Sole, as he changed himself as a manager and founded Anticon. Sole would be joined by Alias and Dose in this new adventure, but Slug would prefer stick to his way and stay away the growing cult label of indie rap.
But then, as a major player in underground rap, Slug was everywhere and met success with a large following including not only hip hop addicts, but also rockers and many girls. He went on never-ending tours and featured more and more on other rappers' records. He collaborated with friends from Minneapolis and St Paul and participated to Float, the third album of an underground rap rising star, Aesop Rock. He also worked making the catalogue of Rhymesayers available worldwide. In 2001, after 3 EP's and some tour CD and small releases such as Sad Clown Bad Dub, he released Lucy Ford, the second Atmosphere album, a record focused on his broken relationship with his girlfriend. The next album, God Loves Ugly, tried to turn this page ("F*@k You Lucy"), and was followed by Seven's Travels (2003) and You Can't Imagine How Much Fun We're Having (2005).