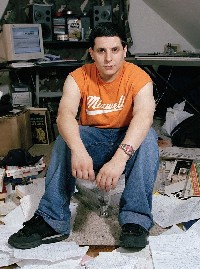 Most of the people this interview is aimed at – French guys and pop/rock fans – do not have the slightest idea of who Sleep is. Can you tell us where you come from? I've been told you're from a Mexican origin.
I grew up in New Mexico, and now i live in Portland Oregon. I am Mexican American, but i just say Mexican.
Why and when have you become an MC?
I got into hip hop at an early age. I give credit to my cousin Jude for getting me hip to it. He taught me how to pop and break when i was eight years old. i fell in love with the music and being an emcee was something that happened naturally.
How have you reached Oldominion?
I am an original member of Oldominion. It started with six members. I was one of them. The others were Onry, Snafu, Pale Soul, Destro, and Nyquil.
Do you have any hints to give us about future Oldominion collective projects? As far as I know, One is the only collective album of the group so far.
We are working on a new Oldominion record right now. It will drop sometime 2006. We have other records besides One on our website oldominion.net.....From time to time we also give away some of the older music.
And Josh Martinez ? How have you hooked up with him?
I met Josh Martinez in Austin TX at SXSW, it's a big music/film festival. we just clicked right away and decided to do a song together. The song came out good and we decided to do an EP. it was called " Boss Hog's"
You've already released one album and 2 EP's with Josh Martinez. Are the Chicharones a long term group? Do you plan several other albums of this duo?
We have an LP called When Pigs Fly/ Aporkalips Now. It is a fun light hearted record with a just the right amount of serious to it. I like making music with Josh and see no reason to stop doing it. I think we got at least another record to two in us.
You're rapping with Josh Martinez, you participated to several tracks of the Skratch Bastid's Take Care of Business album and he contributed to your own Christopher album, and you're currently on tour in Canada. Have you became a Canadian citizen?
Skratch Bastid is my favorite DJ and also one of my good friends. I'm actually going to be doing a project with him this next year! I have made many good friends in Canada and moving there is something i have been seriously contemplating. I'm trying to weigh everything out.
Now, let's tell about your Christopher album. Has the release on Up Above provided you with more visibility and exposure to the media?
Up Above has been nothing less than wonderful! They are all good people and actually care about the music and the artist. I think that having that brand attached to my name has opened many doors.
There's Masta Ace featuring on this new album. How have you met him and proposed him to rap with you?
I had a weekly night in Portland called Nightcrawlers and Masta Ace rocked a show at it. After the show we invited him to Momentum (the studio). He came with Stric and Punchline and they all recorded on something. The song was originally going to be on an Oldominion record but we didn't want it to get any older before it saw some light. It was one of my favorite moments in music. I've been a fan since i was a kid.
I've been told that you were a father. How does this influence your lyrics and your career as a rapper ?
Being a father changed everything! I had to think about what i was saying in my music, and keep in mind that one day my daughter would be able to understand those words i was saying. It makes it hard to tour for long periods of time but sometimes I have to. It takes a Little more energy but you can balance the road and home.
Have you ever been in France for a concert ? Is this something possible or planned ?
I haven't been to France yet. I have always dreamed of going but i have not had the chance to. I know it will happen soon and i can't wait!
Any final message or statement to end this interview?
I just want to thank everyone who has taken the time to listen to my music I never dreamed that one day someone across the world would be listening to my creation. I don't take these things for granted. Peace...