Last year, Lonnie Bands from BandGang released his strong KOD album. And there, the "Detroit To Inglewood" track underlined the many connections between the Midwest and the Californian scenes, with people like Drego & Beno, and, on the West Coast side of the guest list, Ice Burgandy.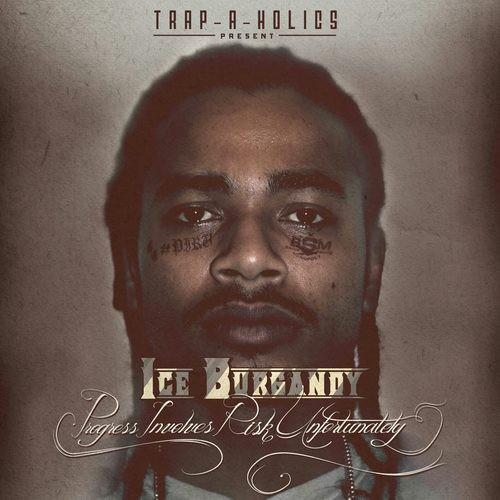 It was nice hearing him again, considering that the only recent news about him related to the sordid death of his old friend Rosemo, after a beef with The Game and Boskoe. Apart from this, this Bloods gang affiliate appeared to have dropped rap for a good reason: he had earned no revenue from it. But then he resurfaced, exactly as he did in the first place: far away from his Californian base in Inglewood.
Ice Burgandy, indeed, was previously an affiliate to Atlanta's 1017 Brick Squad collective. In 2012, he even released one of the many anthological mixtapes recorded by Gucci Mane's band, a project named Progress Involves Risk Unfortunately.
The guy in that click he was the closest to, actually, was Waka Flocka Flame, who enrolled him into his Brick Squad Monopoly subdivision after a trip to California. As a result, Ice Burgandy had featured on "Homies", one of Flockavelli's tracks, and Waka Flocka contributed to his own mixtapes.
On Progress Involves Risk Unfortunately, however, the man from Inglewood was unquestionably the main star, along with Purps from 808 Mafia, who produced the whole mixtape, apart from works from Southside and Lex Luger.
The subject matters were those expected from the Brick Squad. It was all about drug stories, told from the dealer or the consumer perspective. And in addition to these, the rapper had a few lyrics about cars, money, clubs, and girls.
Ice Burgandy, though, imported from California a laid-back attitude and better lyrical skills than his Atlanta peers. Also, except for the dispensable "My Benz", a track produced by Lex Luger and featuring Waka Flocka, he didn't limit himself to the devastating bangers these two were famous for.
Some songs were relentless, like the gang anthem "Right Side Hangin", the pack celebration - and Southside produced - "Northside Rose Mo", the proud "Troublesome", or "Warrents". But others were slower and more insidious, like the melancholic "Death Around The Corner", or the dealers song "PMBB", with its screwed hooks, probably the highlight on Progress Involves Risk Unfortunately, in case one needs to be identified on this remarkably strong mixtape.