At first Durk Banks, a.k.a. Lil Dirk, didn't benefit from the craze around Chicago's drill music. Others like Chief Keef, Lil Reese, or King Louie, captured the attention. In 2012, when this subgenre went national, the young man struggled with legal problems due to gun possession, unsurprisingly in Chiraq's violent context. However, he had been approached by Def Jam after the success of his "L's Anthem" song. And the support from the rap world was visible the year after on his fourth mixtape, a project released under French Montana's Coke Boys' label, and with the sponsorship of DJ Drama. That very release would be his defining one, his most iconic.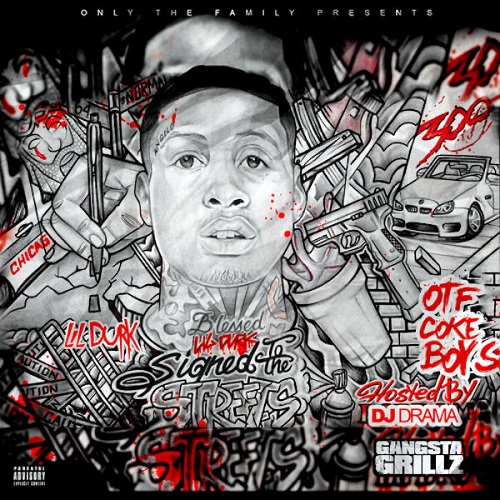 In 2013, Signed to the Streets was the most important release in drill music. It wasn't only a high quality mixtape; it was also a milestone in the evolution of this subgenre. After adapting to their own realities the rude lyrics and the synthetic sounds of trap music, the young rappers of Chicago continued to be influenced by Atlanta. But this time, it was the sung raps from the likes of Future, they appropriated. Their figurehead, Chief Keef, had given it a try on his Almighty So mixtape. The one who would perfect this formula for good, however, was Lil Durk.
The background was still the same. The rapper was still talking about the danger and violence of the hottest streets in Chicago. It was all about the urgency, coldness, and social considerations that separated drill music from its southern sources. It was about the "Street Life", per that song's title. It was about the clan mentality, on "Dont Understand Me", the only value in such a place. OTF, such was the name of Lil Durk's very label. Only The Family. This harsh kind of rap, however, delivered with strong melodies, and sometimes ethereal ambiances in a cloud rap mode, like with "100 Rounds". And this would deeply influence many others, inclusive of France's own PNL, who would name their first album after Lil Durk's label.
Signed to the Streets had a few fillers, but most of the time, Lil Durk's approach was highly efficient. Not so much on "Who Is This", the most Atlantan track there, thanks to its little melody typical of Zaytoven, but the introductive "Traumatized", a banger, or "Hittaz", or the grandiloquent "Oh My God" – a track closer to more traditional drill music, with its hammered lyrics and the absence of Auto-Tune effects. And also, later on the mixtape, Young Chop, Chief Keef's producer, delivered a great "One Night" and an intense "52 Bars Pt 2.". And, finally, the outstanding "Times" was the perfect apotheosis, for this undeniable drill music landmark.