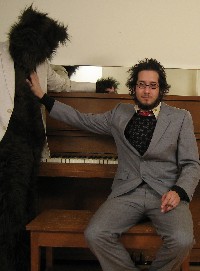 Let's start with a question about your name, Bleubird. Why is it "bleu" instead of "blue"?
I used to spell it both ways. Basically it was Bluebird, but I had to change it because there was a band with the same name from California.
What kind of music did they do?
It was a rock'n roll band. I've never heard their music. But we had the same booking agent and it was a little confusing. So I had to change for "bleu". Plus I have a French name, Jacques, so it kind of made sense.
Why do you have a French name?
My father is Italian, my mother is American. They wanted a name you could say both in Italian and in English.
So they chose a French name…
Yes, for my brother as well. So it kinda fits that I have a French name and no French background.
I read in an article that your name was partly French but that you did not speak French.
No. Plus I live in Montreal now. But I still don't speak French.
As far as I know, you're from Florida. And Canada is very far from Florida…
Yeah. I went as far as I could get away. I've always wanted to leave Florida. I've travelled a lot. And my label was in Halifax. As soon as they went to Montreal, I decided to go. Because the first time I visited Montreal, I loved it.
Apparently, lots of people are moving to Montreal, especially people from Halifax.
From Halifax, they either go to Montreal, or to Vancouver, on the other Coast. There are lots of people coming to Montreal, but not many rappers. Sixtoo has stopped rapping, and Buck 65 is never there anymore. There are not many rappers in Montreal, except French rappers. But not English rappers.
How have you connected with the people from Endemik Records?
I was touring with Grand Buffet. And I played in Halifax. It was my first show before I had an album out. And Scott da Ross from Endemik was one of the organizers of the concert. He was impressed by my show. Then we talked a little bit, and I went back for another show with Thesis Sahib. The second time Scott came back to me with Stigg of the Dump. He wanted to put my album out. He asked: "who's putting it out"? I said: "nobody". He was interested in doing it and that was how we started to work together.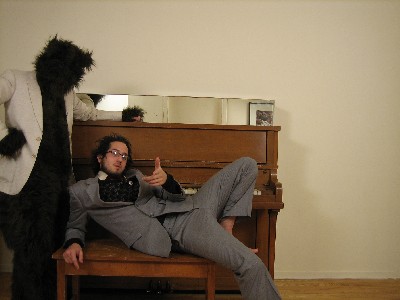 I brought some records where you feature. Maybe you can tell me how you landed on these records.
JD Walker! Hey, he's a very good friend of mine. I actually met him on the same tour. I was always a fan of the Live Poets, which was also Sole's group. I played a show in Maine, and then I met him. He was very surprised that I knew his music. He's rather shy. We started a relationship and then we did a tour together. That's how we recorded this song, years ago.
Zucchini Drive. I recorded the Gunporn album with these guys.
Yes, I know, even if I had no opportunity to listen to it.
I came to do a tour with Cavemen Speak. I recorded one song for their album. They had plenty of beats and finally we came to record Gunporn. We had some time to record the whole project.
But how have you met them?
I met them here in Paris, at the Sous la Plage festival. I was with Grand Buffet. We kept in contact from there. I came back to do more shows with them.
OK. The next record is a French one.
Demaster! I haven't seen this yet! I met these guys playing a show in France. I met then when I was doing shows here on Sole's tour. We just kept in touch online. But I actually did meet them when I was in Nancy with Alias. It was an Alias and a Damo Suzuki show.
Damo Suzuki from Can?
I was just there with Alias, I didn't play that night. Alias opened for Damo Suzuki and his band of musicians. But the singer from Faust came as well, and I'm a fan. He and Damo had never met each other. They came together on stage and they had an improvised set for like an hour. It was an amazing point of history. I was happy to be there to share it. And that's also where I met Debmaster.
Hasn't Debmaster sent you his record?
It came to Montreal but after I left. Because I was in Florida before I came here. It's in my house waiting for me at the end of the tour.
You said Can and Faust are big references for you, but this is not really hip hop.
I don't listen to that much hip hop. I'm more in reggae, rock, soul, electronic. I listen to a little bit of everything as long as this is good music and I can feel it. I don't have any boundaries. I even listen to country. Old Johnny Cash, Willy Nelson. As long as this is good music, if it's honest, I like it.
And what about hip hop from your homeland in Florida?
For a while, there was nothing coming from Florida. But actually we have my friend X who produced a song on my Sloppy Doctor album. He's one of my favourite producers. You also have Swarmburger, DiVinci, and Sol.iLLaquists of Sound. They came on tour with Sage Francis. Davinci is doing all the backing beats for Sage Francis now.
Are they from Miami?
They are from Orlando. In Miami, there's not much hip hop that I listen to. There's just Counterflow, and Botanica del Jibaro.
I was with La Mano Fria just yesterday. He's in Paris as well at the moment.
I don't know this guy. But I'm friend with Soarse Spoken and Cyne. In the old time I knew all of these guys from Botanica del Jibaro, or at least a few of them. But the time I first met all of them like Manuvers was in Barcelona. We were playing at a festival. We all live in the same part of Florida but we never met until we came to Barcelona.
What are your forthcoming projects right now?
I have a 12' EP coming, called the Pilgrim of St.Zotique on Endemik Records. I'm very excited because I've just released my own tour CD, with old stuff and things I've never released anywhere. And now I have this EP with 3 beats from Alias, 1 beat from DJ Mayonnaise, 1 beat from Scott da Ross featuring Subtitle and another beat from Sole and Skyrider from Florida as well. They work on 3 beats together for my new projects. One of them is on my new EP, and the other 2 will be on my new album.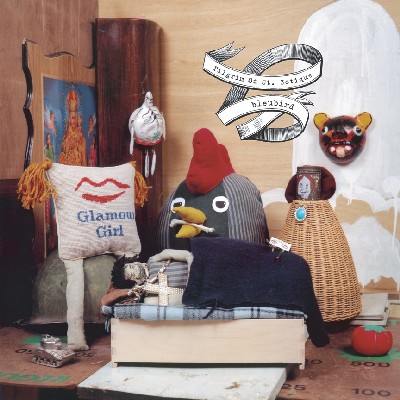 So Subtitle will feature on your new EP. Are you connected with the Shapeshifters and friends?
Yes I am. I met Subtitle in Montreal. As for the other Shapeshifters, I did a tour with Astronautalis, another Florida rapper, and we did a couple of shows with Candy's 22, which is Existereo and Barfly. And that's how I hooked up with them. Since there I've been playing more shows. I've recorded a couple songs for the Candy's 22 Canadian release. And I have a song as well on the Existereo album that's coming out on Institubes, the French label.
Really?
Yes, I do as much as I can. Everywhere. I don't have a certain style that I'd like to stick to. As long as I can get along with persons, I like to make some music with them.
And what about your relationship with the Anticon people such as Sole and Alias? Where does it come from?
It started in Orlando, in Central Florida, where I lived for a couple of years. There was no tour that would come through. They all stopped in Atlanta. So I started to plan shows with a friend of mine who had some money. We invited Alias, Passage, Sage Francis and Josh Martinez. I was always a huge fan of Sole. But originally that came through Grand Buffet. Grand Buffet is pretty much my key to everything. They were with me on my first tour, they brought me to Europe and Canada. They introduced me to Anticon. And for the beginning I've always been a huge fan of Anticon. I worked at a record store when they started putting records out such as Deep Puddle Dynamics and Bottle of Humans. I was listening to hip hop since I was a little kid, but the Anticon music was exactly what I wanted to hear at exactly the perfect time. I listened to everything from Anticon and was always talking to Sole through the Internet. He was always so friendly. When I met him at a show, he requested that we did a song together for my Sloppy Doctor album. A lot of people in the industry now ask everybody "hey, let's do a song together". But if you don't have any personal relationship with the person, it's rather strange. I've never asked anything. Everything I have done with Anticon was based on a mutual relationship. And I love working with them. They are some of my favourite musicians in the world. They've always been treating me with a love of respect and I became a very big friend with a couple of them.
You're touring in Europe right now. Are you touring in other parts of the world?
Yes.
Apparently, your Sloppy Doctor album has been well received in Japan.
It's just got re-released in Japan as well as the Skyrider album. I would love touring in Japan. They translated all my lyrics. They put music videos on the CD. Siaz made a video for one of my songs, a Gunporn video. This is probably my third time touring in Europe. And I toured in the United States and Canada for years. Outside Japan, I'd like to go to Australia, and Central and South America. I want to travel as much as possible. I would even like to play in Serbia, and Bosnia, and Croatia, Hungary, Turkey. I want to see as much as I can.
What about your concerts in Europe? Are they very different from the ones you have in the US?
So much better, so much different. The crowd here seems to appreciate it more.
Even if some of them do not understand your lyrics?
Yes. It's hard, because I like to talk to the crowd. I just think that people here appreciate more emotion and feelings. Plus, here there is more funding from the governments. Even if you're not well-known, you're not losing money from your pocket, whereas in the United States it becomes personal. If I want to do a show, I have to lose money. It's a very different situation. Also, when you tour in the US, you have to pay for your food and your sleep, unless you get to another level. It's much better to tour here. It's very hard in the United States.
Apart from your own releases, what do you know about the other Endemik Records projects?
The Skyrider project has been re-released in Japan. And Scott da Ross who's the owner of the label has just released two 7' last year, featuring me, Noah23, K the I, Sole. We also have TweeXXX, our newest artist, who's a good friend of mine from Michigan.
What's on your current playlist?
My current playlist, what I'm listening to right now? Ah! I love Bonnie Prince Billy; his newest one. Saul Williams' self-titled album. It's a little old but I can't stop listening to it. And Fleetwood Mac. I love Fleetwood Mac. Creedence Clearwater Revival. And Zucchini Drive. I listen to a little bit of everything.
And as far as hip hop is concerned?
As far as hip hop is concerned… Lyrics Born's Later that Day album. I don't listen to that much hip hop, because I'm so involved in what I'm doing. The last couple of months, I've been recording, recording, recording… So that I'm kinda lost in my own little world.
What kind of feedback have you got about your Sloppy Doctor album?
A very good feedback. And I was quite surprised because this was my first real album. I was very happy with the feedback I got about this album. Now I'm trying to progress a little farther. I think my music is becoming a bit different. When I recorded Sloppy Doctor it was years ago. And now I'm trying to make a living at being a musician. I'm a little frustrated with the business. This is something I hate. You know, the more I learn about the business world, the more I value friendship. That's what I love about Endemik. This is a small label, but it is built on friendship and trust.
We're about to see you on stage. Are you as eccentric on it as on your album?
Probably more. Definitely. That's what I've been told. I love to be. I love performing. I love the feelings and having a lot of fun.
Any final message to French people?
I understand that France is the second business market for hip hop. It seems right to me. My message is thank you France. It seems that France carries a torch, as far as listening to advanced music and advanced messages. And I love France for that. The last time I was here I broke my foot at Sous la Plage, and yesterday before I came, while I was in Belgium, my tooth fell out. It seems I'm falling apart for France!
Laugh.
I have horrible teeth, and I can't afford a dentist. This is a trouble.
Ok. Thank you very much. Let's finish with that.
Yeah!
Thanks to Scott da Ross and La Guinguette Pirate for their help.