Mach-Hommy has not always run after success. Like other underground heroes, he has shunned the medias for a while. We don't know much about his identity, and he is always masked, his face hidden behind the Haitian flag on his bandana. Also, his lyrics are cryptic. They mix creole with English, he refuses to write them down and, along with Your Old Droog, he asked Genius to remove them from their website. He doesn't want exegetes. Interpreting his words is left to listeners, according to their sensibilities. Moreover, some of his records are sold at exorbitant prices. And he left Griselda Records just after his cult H.B.O. album, before the Buffalo label got exposed to a large audience, through new distribution contracts and alliances.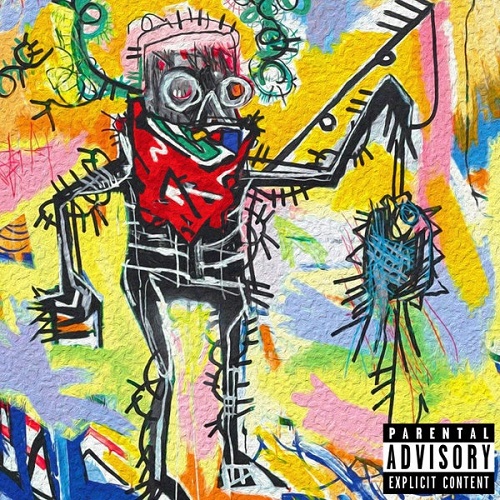 But in 2021, things have changed. Mach-Hommy is back to Griselda Records and he reconciled with Westside Gunn, who supports him on Pray for Haiti. Indeed, he is the album's executive producer, and he features three times there, adding his squalling rap, onomatopoeias, and brat voice to the quiet tone of the other. Such is the case with "Folie à Deux", for example, which is actually a "folie à trois", Keisha Plum supporting the two guys with a bit of spoken word. With his voice that meanders effortlessly from a rumbling tone to a thundering one, and that sings at times, Mach-Hommy could be self-sufficient. Nonetheless, he is assisted by many, some expected like Tha God Fahim, his old Dump Gawd acolyte, and others less, like the uncredited Melanie Charles, another singer of Haitian descent. As for the music, with some support from Camoflauge Monk and Conductor Williams, among others, Pray for Haiti benefits from the best of Griselda's formula: this is boom bap with no "boom" and no "bap", a bit of jazz and soul, and clever drum plays, like with the admirable "Ten Boxes - Sin Eater" produced by Denny LaFlare.
Due to this return to Griselda Records, this album is better marketed than the previous ones. It is also – relatively – accessible. And it is one of the most celebrated in 2021, like its immediate successor Balès Cho. It is praised like H.B.O should probably have been, five years earlier. It confirms what the Newark rapper says on the first track, "The 26th Letter": "Mach-Hommy is an icon, end quote, this gon' be the year I get my python trenchcoat". That being said, this record is not exclusively about him. It is also, once again, about Haiti. Mach-Hommy wants us to pray for his martyr country, whose last misfortune was the murder of its president, a few months before the album. He wants 20% of its sales benefits to go to a fund that supports IT and coding courses on the island. And he praises the richness of its language on the "Kreyol" skit.
On tracks such as "The Stellar Ray Theory", Mach-Hommy talks about the children of his country. He plays with weather metaphors to celebrate their resilience, like when he sings "la pluie a tombé, nous pas mouillés": the rain has fallen, but we're not wet. He shares his experience with starvation on "Kriminel". He talks about his people like when, through his mother, he pays tribute to black women on "Marie". On "Au Revoir", supported by mixtape legend DJ Green Lantern, the rapper wants to "make sure that everybody and they mama heard of Mach-Hommy". But judging by his sad tone, he is not driven by his appetite for success. It looks like Mach-Hommy has some other missions, other statements to make.