What can Devin Copeland do, while locked-down during the COVID era? Well, smoke marijuana, of course. Relax and chill with his close ones, obviously. And record music. So pretty much the same as usual, more or less. Indeed, nothing new really transpires from these special times on his latest album. Except maybe in the first rhymes, where he says he can't wait for the pandemic to end, and with its title, through which the Houston rapper preconizes to practice some "soulful distance". This concept, actually, could easily summarize his entire production: on the fringe of rap music, but appealing, endearing, and quite touching. In one word: soulful.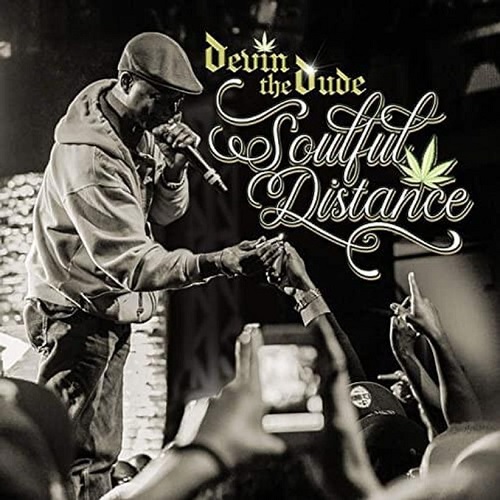 Stuck at home, Devin is morose. He complains about the state of hip-hop on "To Each His Own". Keen on having a quiet family life, he is irritated by a jealous partner on "P.L.A.N.S.A". And on "Live and Let Live", he lectures young players, jointly with other Houston veterans, Slim Thug and Scarface. He reviews his life on "Discouraged", and he compares it to a long, tough, and thankless race. As a matter of fact, Devin the Dude is now in his fifties, so he raps like an old man. But he is of the cool weed-smoking kind, and this makes a difference. At times he has the blues. But nonetheless, he persists with his way of life. He spends time doing nothing, according to "Nothin' Really Just Chillin'". Or having sex. Any kind of sex. Trivial sex on "My Left Nut Itch" and "Just Ridin' By", romantic sex on "You Got No Time to Play" and the excellent "A Good Woman", or adultery sex on the suave "He Don't Have to Know". And of course, he keeps on inhaling his substance of choice, with old pals like the Coughee Brothaz, on "We Smokin'".
Conceived with the help of Blyne Rob, like the previous one, this eleventh album delivers what we always liked with Devin the Dude: some warm music full of supple rhythms, generous organs, and languorous guitars. This is an ageless formula, that goes from boom bap to modern sounds, and it is always supported by a melodic and sweet voice. There's plenty of humor, as well. There's the prank call at the beginning of "My Left Nut Itch", when the rapper contacts his health insurance about an itching testicle. Or the storytelling on "BREAK-fast", when he says how perilous it is to go shopping in the ghetto. As always, this is entertaining, pleasant, and quite funny. It is, at the end of the day, some rap music for the sweethearts.
On Soulful Distance, the song, Devin says that he can't wait for the pandemic to end, and that he wants to hit the road again. He is not the only one, everyone is longing for this in 2021. But at least, with this new release, the Texan rapper delivers a solid remedy against boredom.