Projects are, in the US, the equivalent to the French "HLM". They are large real estate schemes, launched by the public authorities, and aimed at the poorest. And quite often, they end up being no-go areas, where criminality is the only alternative to poverty, and where violence and drugs reign supreme. Of Haitian descent, Dieuson Octave grew up in one of these places: Golden Acres, in Pompano Beach, North of Fort Lauderdale. And most of his inspiration is coming from there, judging by the titles of two mixtapes he released while he was still a teenager: Project Baby, by the end of 2013, and the solid Heart of the Projects, one year later.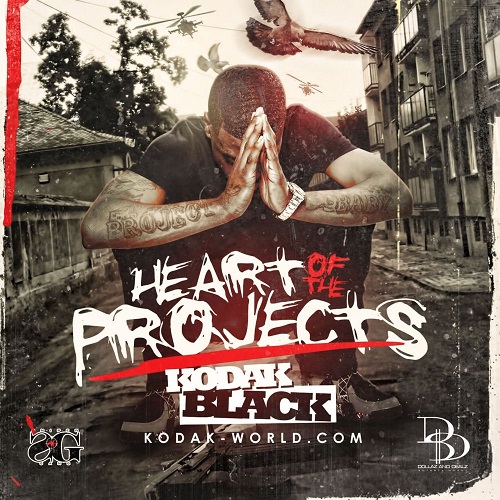 Thanks to the latter, the man formerly known as Lil' Black, a member of local band Brutal Youngnz, would start being famous under the name of Kodak Black, he opted for when he opened his Instagram account. Two tracks on this mixtape, indeed, "No Flockin" and "SKRT", would be coopted by Drake, hip-hop's most efficient curator and career accelerator in the 2010's. And other respected rappers, like Earl Sweatshirt, Meek Mill and Kevin Gates, helped putting the young man in the spotlight. In 2015, just after Heart of the Projects, he would have a busy year, with the increasing attention from record labels, but also a few legal problems.
Heart of the Projects is a product of Kodak Black's environment. It is the result of a life spent with no father figure, and focused on criminality. The mixtape brings us immediately to this reality, starting with a murder scene, and talking about girls, and using or selling drugs. None of these were new themes, but Kodak Black approached them as the teenager he was, moving quickly from exaltation to sadness. He represented Florida and the unsafe neighborhood he is from, but he wasn't the typical Miami rapper. Chief Keef had influenced him, judging by the simple but relentless rhymes of "Benji's"; and Boosie Badazz as well, a rapper Kodak Black reveres, and he sometimes sounds like, with his bittersweet voice, and the melodies in his raps.
The influence is subtle, though. On Heart of the Projects, Kodak Black was primarily his own man, and an accomplished rapper. The mixtape was long, but not boring. Many tracks were outstanding, like the manifesto "Heart of the Project", or bangers like "I'm that Nigga", "18", "1K", and "My Wrist", on ode to a body part he solicits a lot when cooking drugs. Even when his music got quiet, Kodak Black was irresistible, like with the singles "No Flockin" and "SKRT" – the latter being about his disillusioned relationship with women – or the melancholic "Take Me Away", or "Molly", a declaration of love to the substance called that way. Fillers were rare, and Heart of the Projects was surprisingly cohesive for a mixtape, from so young a rapper. Thanks to it, and at barely 18, the child from Florida's projects proved that he was already a great one.