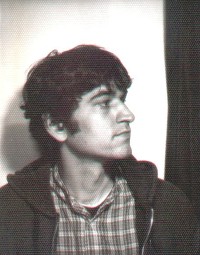 In 2000, you released Left Handed Straw, one of my favorite albums released by Anticon. This was just in the years of Anticon's explosion. Why haven't you released anything on this label since that time, apart from productions and remixes for Sole or Themselves?
When I made Left Handed Straw I was making a lot of stuff in a very short amount of time. I was a little more care-free back then and I did things more spontaneously. Left Handed Straw was set up more like a mixtape of projects I had worked on up until that point. The last tape I had out was in 1998, so it was two years later that I finally finished Left Handed Straw. I was working on stuff after Left Handed Straw, but I hadn't come up with anything specific. I also finished school and starting working at a homeless shelter. I moved to San Francisco and didn't see all of the Anticon guys as much and only ended up doing a few beats and some remixes.
According to your bio, you landed on Anticon after Sole discovered one of your demo tapes. How have this demo fell into his hands? How have you become an Anticon artist?
When Sole moved to California he was staying at P-Minus' house. P-Minus ran a mail order catalog called Atak. I knew about Atak and sent them a copy of a tape that I had. They liked it, so they sold it in their catalog. When Sole was at P-Minus' house he heard my tape and ended up calling me. He asked if I wanted to do some songs with him. I drove up to Oakland and met him, Moodswing9, Matth, pedestrian, Dose, and Scribe. I started to hang out with them more often and we all became friends.
After the rerelease of Left Handed Straw, Urb Magazine mentioned you as one as the next 100 people to watch for 2002. But from 2001 to the release of the Expansions EP in the second half of 2003, we had almost no news about you. What happenned in this time period?
I finished school and I moved from Berkeley to San Francisco. I was working on music. I actually made some of the beats that are on Sole's new Live From Rome Album (2005) during that time period (between 2001 and 2002). I started to focus more on making songs instead of beats. I wanted to make my own instrumental songs that could stand on their own, so I tried to figure out how to do that. I did a remix or two, did some other beats. I was working on music, just not a full length album.
How have you landed on Bully Records? I guess this is through Sixtoo.
Yeah, Sixtoo told me that he had a friend who was starting a record label and asked if I wanted to put out a 7-inch. I thought it would be fun, so I agreed. I ended up doing an EP instead. I was happy with the result.
Are you still based in your native California?
Yeah, I have lived in San Francisco for about 4 years now. California is my favorite place out of all the places I have been.
You've released 2 EPs since Left Handed Straw. That's great, but do you plan a new full length album?
Yeah, I will have a full length at some point. I just don't want to rush it. I want to make sure that when I do a proper full length that it comes out right. I don't want to make Left Handed Straw part 2. I want it to be different and i want to try and challenge myself.
Do you have any project with an MC? I mean a full album, apart from your single productions for Sole or Sage Francis?
No, nothing planned. I would do an album with an MC if the right person was available and we were able to work something out. I don't have anything planned right now though.
What's the story behind the Bumps mix? Is it your definitive tribute to rap classics?
It's not a definitive tribute. There are so many other things I would have to include if it was a definitive tribute. Bumps was basically something I did when I wasn't working on my own music. If I got sick of working on beats or frustrated with a song I would work on the Bumps mix. I spent a lot of time on it. I was always a fan of cut and paste style mixes, so I wanted to do one of my own. I have some other ideas I'd like to work on too. Making the mix helped refresh my love for hip hop. Bumps is definitely a tribute to music that I love, but it's not the only stuff I love. I think you can get a good understanding of what kind of hip hop I grew up on by listening to that mix.
What are you listening to mostly at the moment? I mean, apart from the kind of hip hop classics mixed on Bumps.
I listen to a lot of hip hop records, but I'll listen to just about anything. I listened to the Gwen Stefani album for about a week straight. I listen to a lot of psych rock and weird pop stuff. I used to listen to a lot of indie rock, but I haven't been that into it lately. I like to listen to a wide variety of stuff. The new Elektro4 record is really good. I like it a lot. I usually end up buying around 10 or more records a week, so I listen to all kinds of stuff. I have been listening to a lot of older hip hop though.
At the time of Left Handed Straw's release, every French speaking people noticed you used "Les Marquises" on your "Test #5" track. We French - and Belgian - people are quite interested in knowing if you are a fan of Jacques Brel and what's your opinion about him.
I am not a huge fan of Jacques Brel. I like him. I bought that album for sampling purposes, but I think he has some good stuff. I can't understand what he is saying, so I don't ever sit down and listen to his records. I know that he is quite popular with French people. A lot of French music has good string arrangements (orchestral arrangements) in it and I like that kind of stuff.
Have you ever played on stage in France? Is a concert in France or Europe planned sooner or later?
No, I have never done a show in France. I have been to Paris, but I have never done a show there. I would love to come and do a show in France. If someone wants me to come and do a show and would like to arrange it, please contact me. Once I finish an album I will end up touring, so I will hopefully make it out to Europe.
Any final statement or message to France to put an end to this interview?
Thank you to anyone who has supported my music. Hopefully I will see you soon.