BIGG JUS - Interview
An interview of Company Flow with us was planned two years ago, when they came and visited us for a show in Southern France. But finally, Montpellier was too far from Paris and we missed them. At this time, Bigg Jus had already left hip hop's new wave leaders and started working on other projects. Today we see this interview of him as a kind of revenge, even if we deliberately decided not to question him too much about his former crew. The time has come now for Subverse and the rapper's solo album, and this new story seems as promising as the previous one was.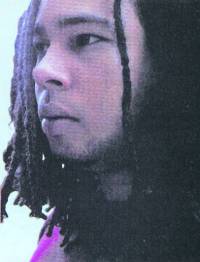 Let's start and finish directly with the obliged Company Flow questions before switching to Sub Verse and your solo projects. I remember that you had a farewell reunion concert last March. How was it?
Pretty tight a lot of people that we haven't seen in a while... Good friends tears family sobbing...
What's your opinion on Len's and El-P's works now that each of you has its solo career? Have you had the opportunity to listen to Cannibal Ox's The Cold Vein?
I think we all have been working extremely hard on our projects that we haven't had the time for analysis of the their work besides the certain things that may have already came out.. I heard a lot of Can Ox stuff in various stages of the project but I don't own a copy yet.. It got some dope shit for sure. I really like "Pigeon".
Now you're running Sub Verse, whose first artists are The Micranots and Rubberoom who used to be on the defunct 3-2-1 Records label. Is Sub Verse a kind of resurgence of 3-2-1?
Well not exactly its just that 3-2-1, folded before any one had a chance to come out being that I signed all the artists... I felt so bad it became a priority to find these artists a new spot.
The second main part of Sub Verse so far is apparently MF Doom/Zev Luv X, judging by the re-release of Operation Doomsday and Black Bastards. Will Doom's next records be available through your label?
Who knows... Doom's a friend and we worked on putting these discs out cos' they really didn't have the exposure they deserved.... Although a lot of true heads were up on it you'd be surprised how many people weren't or are new cats coming into the culture. Doomsday only sold about 10.000 copies which is minimum compared to the people who newly discovered this album this time around ..... I know I had it damn near the first day when it originally came out. Oh well we can't all be the stylin trend setters..
As far as I'm concerned, I'm a bit angry that Sub Verse re-released Operation Doomsday and Black Bastards with bonus tracks as compared with the Fondle'em and Ready Rock editions. I almost had to buy them twice. Are such re-releases planned again?
Not really don't sweat it... But I think it was only right to do something new just to respark the attention which worked like a charm. There's no re realeases in the future yet although if something comes along that needs to be rediscovered it's a possibility. Something like Juggaknots first LP which is being repressed on CD. We're not doing it but that's needed...
KMD's Black Bastards was labeled one of the best unreleased hip hop albums by Ego Trip's Book of Rap List and some others. It is now released and internationally available thanks to Sub Verse. Was there a negotiation between Elektra and Ready Rock, and then between Ready Rock and Sub Verse?
No, Elektra was long out of the picture and turned over the masters. Ready Rock folded so it was me and Doom.
And what about Blackalicious ? They are now on Ninja Tune through the Quannum Project, aren't they?
I think they got something going with MCA also... Sub Verse and I would rather look at it as forming an artists collective where we can offer a step up to learn this corrupt business without being exploited, so they can learn to do for themselves in this fastly changing industry. Blackalicious is an example of that. They always handled their business, they got a little help from us and moved up the next level. In the long run people will understand what we're doing, although to some it don't make business sense but this isn't a business it's a culture.
What are Sub Verse's new artists and next releases?
The Bigg Jus Lune TNS album, the new Scienz album, about four new singles, a compilation of all the exclusives and singles on CD. A lot of things are in development stages to early to really name.
Skit Slam is from the UK and on Sub Verse too, isn't' it? Do you and Sub Verse have international connections? Has your first career within Co-Flow helped you to have some?
Skit is from the UK and now living in New Jersey. He moved here when he was 16. I love their 4 song single. If you haven't heard it, pick it up. I think it's a prime example on how the sound has transferred overseas. I am extremely interested in the sound of the culture world wide. I had a chance with Co-Flow to see and hear a lot of cats that were nasty even if I couldn't understand a word they were sayin.. Somehow that flow and cadence and style carry over.
What do you know of the French hip hop scene? My own opinion is that it is big in terms of figures but disappointing in terms of quality, except for a few young acts. But perhaps your US perspective is different.
Well to me there's a problem with being able to hear French hip hop over here cos the States are so big that there are plenty of regions over hear that don't get proper exposure for cats to even focus on a sound from somewhere else. This is where Subverse comes in, although its hard.... Too many people are exploiting the movement to get a proper perspective on the whole for us to take the chances the way we want. I do it for the love but if money not being made to support it or at least to break even cover the costs in some manner... Its progression grinds to a slow pace .. Although a few people got plenty of cars n jewels there aren't too many rich hip hop cats the industry keeps it that way... There needs to be more unification among the ranks to open up channels of communication, promotion and building.
Do you remember Co-Flow's first show in Paris, in Spring 98 along with Mos Def? Or is it just one concert among many others?
Or is it just one concert among many others? Ahh so many concerts just all blurred memories ... Of course I remember though. That wasn't our first show. We rocked some little underground spot a couple of months before that one.
I know that you were approached for participating to the French/international Projet Chaos compilation. Will you be on it?
Yes we are negotiating my fees now. If they can come up with the 80,000$ US, we can make it happen.
That gives me the opportunity to switch to your own solo career. When is your solo album for?
It will be coming out in the first of the year with a limited edition single of about 7 songs, 1 remix, 4 instrumentals and a banger from one of my peoples to come out the end of summer. I think about 13 tracks in total. I'm pricing it less than an EP. I hope the price break translates over there... It's been so long since I had something out that I wanted to make it easy to pick it up without having to worry about if you made the right decision. I think this grouping of songs from the album gives an overall feel of what the album is going to sound, every song is quality.
Are you doing your own production? Can we have an idea of how this will sound like? And what will the lyrics be about?
I did all but 2 songs. I come from NYC born and raised, right along with hip hop since the very beginning. A crucial element from the start was of course, learn to be original and not bite nobodies shit. I would say my sound represents this as well as a progression of styles. When you listen to the album you will definitely feel this. I don't like to be pigeon holed to one particular sound. Lyrically its battle, personal, social, conceptual, graf.
Do you already have other projects that are planned after this album release?
I've been working on a documentary forever. Slowly gathering material. It's taking so long cos I don't have financing for it... But even if I have to do it dolo. Its already coming out sick. There's too much quality. Hip hop "visuals" out there that you can't go wrong...It's one of the easiest dopest things I've have ever done cos it's new and the timing of it is right. Making an album is so much harder due to the critical ears out there. I know I'm one myself. I will be putting all my efforts into this after the album goes through its promotional phase...
Let's finish with my standard question : what's on your playlist right now?
I guess I'm one of those cats that when I'm recording my projects, I don't usually listen to anything so I can keep a clear focus and not be influenced by others. Unfortunately it has been this way for a good year. I haven't heard any thing except stuff I'm doing for Subverse. I just bought the Outsidaz album but I haven't even listened to it yet. Kinda of sad but I have friends who DJ or own record spots who keep me informed of anything that I need not to miss. But that hasn't happened of late... It seem kids figured out how to record and put out a record on their own now the floodgates are open. A lot of extra medium material out there.
Any special message or statement to end this interview?
Peace to all the heads in France. Keep striving for the top.
Rate this entry
0/5
Note:

0

Votes:

0

Higher:

0

Lower:

0