YOUNG JEEZY - The Real Is Back 2
Jeezy's glory days happened by 2005, no doubt. During that year, indeed, he released his (classic) mixtape Trap or Die, a record from his band, Boyz n da Hood, and also his (classic, again) solo album, Let's Get It: Thug Motivation 101. By then, he was just the most important rapper on Earth, period. But the following years have been good ones as well, especially when, from 2009 through 2012, from Trap or Die Part 2 to It's Tha World, he released some of his best mixtapes. Among those, the two editions of The Real Is Back, released respectively in May and September 2011, and produced essentially by Lil Lody, deserve to be mentioned. Originally aimed at heralding a new album, Hustlerz Ambition, the last of the Thug Motivation trilogy, they proved, over time, to be significantly better.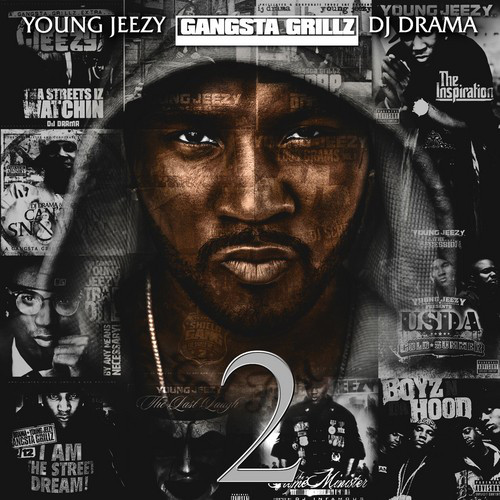 CTE World :: 2011 :: download mixtape :: buy mixtape
The second The Real Is Back - a part, like the other, of DJ Drama's prestigious Gangsta Grillz series - is the catchier of the two, for two reasons: first, it is short, with only 11 tracks spread over 45 minutes; and then, most importantly, it contains some banging trap music uppercuts, like "Trump", where Jeezy compares himself to his future president, "Chicken No Flour", about his key subject matter, drugs, the gun clap introduced "Bandana", and the devastating "Grizzly". As for the rest, this was Jeezy at his very purest. This trap music godfather, indeed, hadn't changed his formula much. He just continued with his usual leitmotivs: he pretended to be the most authentic thug of the rap game; he reminded all that he was a dealer more than a rapper -"I was a boy in the 'hood before I ever knew Puffy"; and he did it, again, on a smoother and conclusive song, "Real Nigga Anthem". His real aim was to distinguish himself from frauds and fake bandits.
This project, though, had something special: with it, Jeezy pushed forward his new protégé, a rising star he had just recruited in CTE. Freddie Gibbs, indeed, featured on 4 tracks, "Gotta See This", "Rough", "Nicks 2 Bricks" and "Sittin' Low", and he outshined other guests like Birdman and Yo Gotti. The rapid, precise and control raps from the Indiana man, completed the harmed bear groans the Atlanta Snowman extirpated from the very depths of his throat. Jeezy, though, was still the main star. He was no longer "Young", or the king of trap music – he'd been deposed previously by his rival, Gucci Mane – but he still had the same hunger.
Rate this entry
0/5
Note: 0
Votes: 0
Higher: 0
Lower: 0