NECRO - I Need Drugs
A beatmaker for Non-Phixion, Cage, Missing Linx and a few others, but also an MC, the boss of the Psycho+Logical label and a video maker, Necro has been a main character in New-York's underground rap scene. He's been its hyperactive Jack of all trades. In 2000, after a few singles and EP's of his own, Get on your Knees (1998), Cockroaches (1998) and The Most Sadistic (1999), Necro had released I Need Drugs, a compilation of his work, and the best opportunity for all to dive deep into this quite interesting guy's salacious and demonstrative kind of rap.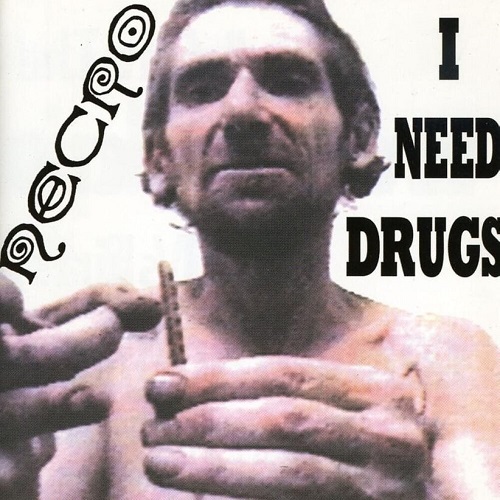 Psycho+Logical :: 2000 :: buy this record
So, Necro was in need. And he was insatiable: anyone would have a strong feeling that he had indeed absorbed a significant amount of drugs, listening to his crude and direct kind of humor, and to lyrics dedicated exclusively – but in frenzy – to two topics: sex, in the most pornographic way; and death, with gore details.
On the Thanatos side, "The Most Sadistic", "Your Fuckin' Head Split" and "You're Dead", all originally coming from the same single, as well as the beyond-the-grave organ of "Burn the Groove to Death", were proving that the horrorcore style had still a future. On the Eros side, the elegant "Get on your Knees" set the tone: based on a catchy sample from Dionne Warwick saying "baby baby, I'd get down on my knees for you", Necro's pervert mind was imagining what kind of sweet thing the singer, down on her knees, indeed, could potentially do to him…
With this album, the rapper and beatmaker was pushing to its limits the most scandalous of all rap imageries. In an extremist but funny way, he was playing with the outrageous. Another good example was the album's eponymous track, a cover of "I Need Love", the hit song of LL Cool J, identical to the original version, except for the lyrics, which described on the same melody, in a hilarious way, Necro's long experience – true or fictive, we don't care – with all possible drugs.
There were some other striking and surprising songs on this album, some quite experimental, like the disconcerting "Cockroaches". And though they were mostly made of radio freestyles (including one recorded during Bobbito Garcia's mythical program), the last tracks were as striking as the others, present on I Need Drugs.
Recorded around Christmas time, "WNYU 89.1 M-Mas Freestyle" was a good example: there Necro, a Jewish, claimed that he didn't care at all about this Christian celebration, starting his rap with a charming "I wish you a merry crucifixion and a crappy New Year!". Necro, really, had definitely and absolutely no consideration for finesse or subtlety. But that's precisely what made him so good.
Rate this entry
0/5
Note: 0
Votes: 0
Higher: 0
Lower: 0