The year 1999 has been, somehow, the apex of the indie rap times. And as such, it has been full of gems. The more we dug, the more marvels we discovered, released by small labels, or self-released. Appleseed had been one of these. With its 8 tracks, this small CD, sold directly by the rapper on his website, created a small buzz on the Internet. It also helped propelling the career of Ian Bavitz, a.k.a. Aesop Rock, an MC and producer based in Boston, but originally from Long Island, who had emerged two years before with a first album, Music for Earthworms.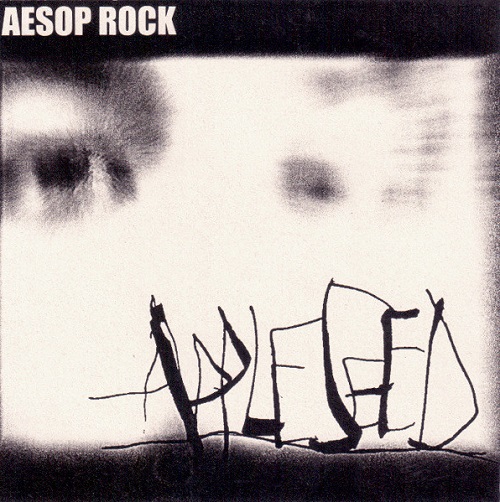 Self-released :: 1999 :: record unavailable
The trademarks of Aesop – the "Rock" in his name had been added a bit later, to avoid any confusion with the Living Legends' own Asop – were his deep voice, which looked older than his age, his almost monochord flow, and his specific way to over-articulate sophisticated, abstract and intellectual lyrics. Supported by two beatmakers, Block (the future Blockhead) and Omega, but producing most of the tracks by himself – and also drawing the cover art, in collaboration with Neal Usatin – Aesop Rock proved he could do anything: a bit of beatboxing on the "Appleseed Intro", some dark jazz rap on "Dryspell" (built on Ornette Coleman's "Peace"), and a tenebrous kind of hip-hop on "Same Space (Tugboat Complex)".
The greatest times of this short album, though, would not start before the organ and discreet strings of 'Sick Friend". Those who deplored Aesop Rock's sobriety, austerity, and lack of spirit, would rejoice with "1000 Deaths", an astute reinvention of the classic piano / violin sample formula. They would also enjoy the complex, tormented and oriental-sounding "Blue in the Face", as well as Appleseed's last track, "Odessa", where Aesop Rock invited Dose One, one of the best rappers of the Anticon crew, for a great finale and apotheosis.
Despite this small but great album, built like a crescendo, Aesop Rock was still one of hip-hop's best kept secret, by 1999. He was not exposed as much as he deserved. Not yet. But things would move quickly. The doors of the most prestigious indie labels would be open for him: first Mush Records, then Def Jux, and finally Rhymesayers. He would collaborate with the indie rap intelligentsia, becoming one of the most emblematic MCs of the underground. And the small seed planted with this record would develop into some more tasty apples.