OF MEXICAN DESCENT - Exitos y Mas Exitos
By this time, Alejandro Ocana, a.k.a. 2Mex, had not joined Key Kool and Rhettmatic's Visionaries yet. And Daniel Rodriguez, a.k.a. Xololanxinxo, wasn't a member of Toca. Both Chicano rappers, actually, were part of Of Mexican Descent, a duo affiliated to Afterlife. Exitos y Mas Exitos, a 7-track LP, released originally on wax only, is the best remnant of this age. It would be re-released in 1998 on cassettes and CD-Rs, inclusive of a few bonus tracks, but it is mainly on a digital format that most fans would get hold of it, until the mid-2000's, when Busdriver would decide to make it available again on Temporary Whatever, his own label.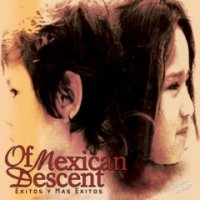 Temporary Whatever :: 1997 / 2006 :: buy this record
With this Edicion de Lujo, everything was now available on a CD in good standard. In addition, it was enriched with two videos, a live song, and a few other tracks recorded by the duo from 1993 through 1998, for example the great "Night and Day", featuring Circus and an impressive organ-based beat produced by Omid, originally released on the latter's classic Beneath the Surface. To be honest, all these songs didn't necessarily fit with one another, and the sound quality could change substantially from one track to another. As a matter of fact, the extended version of Exitos y Mas Exitos was neither a true album, nor a compilation. It was more an archive, or a documentary, or the testimony of an era; but what an era!
In California, by 1997, hip-hop's West Coast Underground was at the crossroads. It was transitioning from the Good Life Café years, to their bastard son: the huge indie rap scene of the end of the 90's. It was the days, actually, when the stylistic fantasies of the Project Blowed would turn into some kind of new psychedelia; "Money Is Meaningless", for example, would anticipate the hallucinated raps of Anticon's Dose One. It was a time when a rap subgenre mostly focused on the virtuosity of its MCs, would start mixing with rock music, when it would give way to some guitar rap songs, and pretty good ones. All these tracks from Of Mexican Descent, where CVE or Iriscience of the Dilated Peoples would feature, and whose producers would be Nobody, Antimc, or KutMaster Kurt, would represent all of this, in addition to the strong Mexican identity of both 2Mex and Xololanxinxo.
The Deluxe version of Existos y Mas Exitos is history. But it is also a good record, with songs like "I am Still" and "Lady of the Lake", and pleasant additions like the half-sung "Atlas", or "All Turn Native", some of the best tracks ever proposed by this scene. It was an absolutely imperfect record, but also a perfectly crucial one.
Rate this entry
0/5
Note:

0

Votes:

0

Higher:

0

Lower:

0