SAUL WILLIAMS - The Inevitable Rise and Liberation of Niggy Tardust
More than a rapper, Saul Williams is a poet. The guy built his career at NY's Nuyorican Poets Cafe, published books and became exposed to a large audience when a movie where he featured, Slam, received an award at the Festival de Cannes. All of this is great, but slam and spoken word are significantly different from rap, and practitioners are not always successful when time comes to record their lyrics. Amethyst Rock Star, the first album Williams released by 2001, demonstrated this. Despite his fame and the support he received from Rick Rubin at this time, it had been a huge disappointment.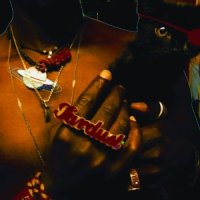 Fader Label :: 2007 :: saulwilliams.com :: buy this record
With its reference to David Bowie, the presence of Trent Reznor and its free online distribution, à la Radiohead, The Inevitable Rise and Liberation of NiggyTardust, an album released in 2007, looked like another kind of hazy concept. It was a bit overproduced and sounded quite disjointed, with its mix of arty rap and self-indulgent rock'n'roll, where our rapper and slammer decided to sing, or to try an unlikely cover of U2's "Sunday Bloody Sunday". However, unexpectedly, this record may be, by far, the best in his discography.
This release from Williams and Reznor had rock sounds, no doubt. But at times, we could also hear the ghost of one of the truest rap bands in history. The lyrics, their afro-futurism ("Scared Money"), their questionings on society ("Raised to be Lowered") or black identity ("Niggy Tardust"), evoked some kind of abstract Public Enemy, while the jerky percussions on "Black History Month", the throbbing beat on "Convict Colony", the heavy metal hook on "Break" and the record's industrial mood, recalled the terror sound of the Bomb Squad. Reznor was updating this formula, with the help of some other experimentalists like Thavius Beck, CX KiDTRONiK and Isaiah "Ikey" Owens of Mars Volta. The similarity was particularly striking with the excellent "Tr(n)igger", so viciously influenced by Public Enemy that it sampled and looped Chuck D's lyrics from "Welcome to the Terrordome".
By the end of the journey, the meal was a bit too heavy for our stomachs. But this was not necessarily a bad thing. With tracks like "Skin of a Drum", for example, where he was more ranting than rapping, Saul Williams needed much richer beats than the scrawny loops usually seen in hip-hop. It was under this condition only, that Williams' slam poetry finally became worth being heard on a record.
Rate this entry
0/5
Note: 0
Votes: 0
Higher: 0
Lower: 0